Seeing a new piece of performing art of some kind may be akin to witnessing the hatching of cicadas at dawn. Of course, the artists are striving for perfection, and we are struck by the performance they achieve. At the same time, it is also true that what is taking place on stage is something "in the process of change. It is a stimulating experience for the audience to witness this "time of change," like the cicadas in the early morning as they dry their wings and eventually flutter off to some unknown destination.

The dancer Yasutake Shimaji, who has presented works in Japan and abroad after working with world-renowned choreographer William Forsythe, and the rapper ROY Kanroi, who has been active in a variety of fields in recent years, including performances on stage, with music at the core. The collaboration work by the two will be performed at the "Tokyo Performing Arts Festival 2023" (a double bill with Mariko Kakizaki's "Can't-Sleeper" titled "Tokyo Performing Arts Festival x Aichi Arts Theatre x Dance Base Yokohama Performing Arts Selection 2023 in Tokyo"). This is a new work by the differently colored tag team whose previous work "Arika" (2016- / produced by Aichi Arts Theatre) was much talked about.

NiEW reporters visited the two just before the world premiere at Aichi Arts Theatre in mid-September. We sat down with the creators of "In the Midst of Change" to talk with them, with the presence of Tokyo Performing Arts Festival FT label program director and dramaturg of the current work, Nagashima Kosada (Nagashima says he is their "consultant" and "engineer of production methods" in this work).
An Arduous Creative Journey: From Being on the Same Page to Bringing Their Vision to Life
-I watched a video of the rehearsal on the day before the interview, and while the previous work "Arika" was a clash of words and bodies between two different genres, in this work, Shimaji speaks the dialogue, and Tamaki speaks the dialogue and dances, while rapping only a little. I was surprised at the way the two of you mixed and matched so much. How do you feel about it?
Tamaki: I don't know.
Shimaji: Hmmm. (looks out the window).
-(Looking at the rain caused by the typhoon from Outside) Do you have any?
Shimaji: At least, I can say it is a work about scenery.
-It is true that "Ai no te" begins with a story about a certain landscape.
Shimaji:First of all, looking back at our previous work "Arika," it was composed in such a way that the two of us were facing each other on stage surrounded by the audience, and I was concentrating on observing and understanding Tamaki's every move.
Shimaji:This time, since the program was performed together with other works, we were naturally placed side by side facing the audience in the usual stage configuration. At first, I felt somewhat uncomfortable with this arrangement. I wondered what I should do (laughs).
-So it all started with the confusion of having the two of you standing side by side instead of facing each other.
Shimaji:We started creating last year, and we thought that if we were going to perform side by side, we might as well do it like a manzai (comic dialogue). At that time, we talked about names all the time.
-Name?
Shimaji: I heard that you have trouble saying your own name, Shimaji Yasutake.
Tamaki: (Dancer) Kaiji Moriyama has a high symmetry ratio and is very stable with his letters.
Shimaji: We were talking about such trivial things as (laughs).
Tamaki: It wasn't much of a story to cover (laughs).
Shimaji: Even back then, I had an image of "dancers who don't dance and rappers who don't rap. In my case, not dancing is also dancing. I don't know if I communicated that well to Tamaki-san.
Tamaki: No, I did convey the image to him, and he was very much in agreement with that image. In short, at first we did not have an image of what it would be like to perform face-to-face in a theater, and we had a feeling that if we used the skills we both possessed in dance and rap as is, it would only end up being a deja vu sequel to "Arika".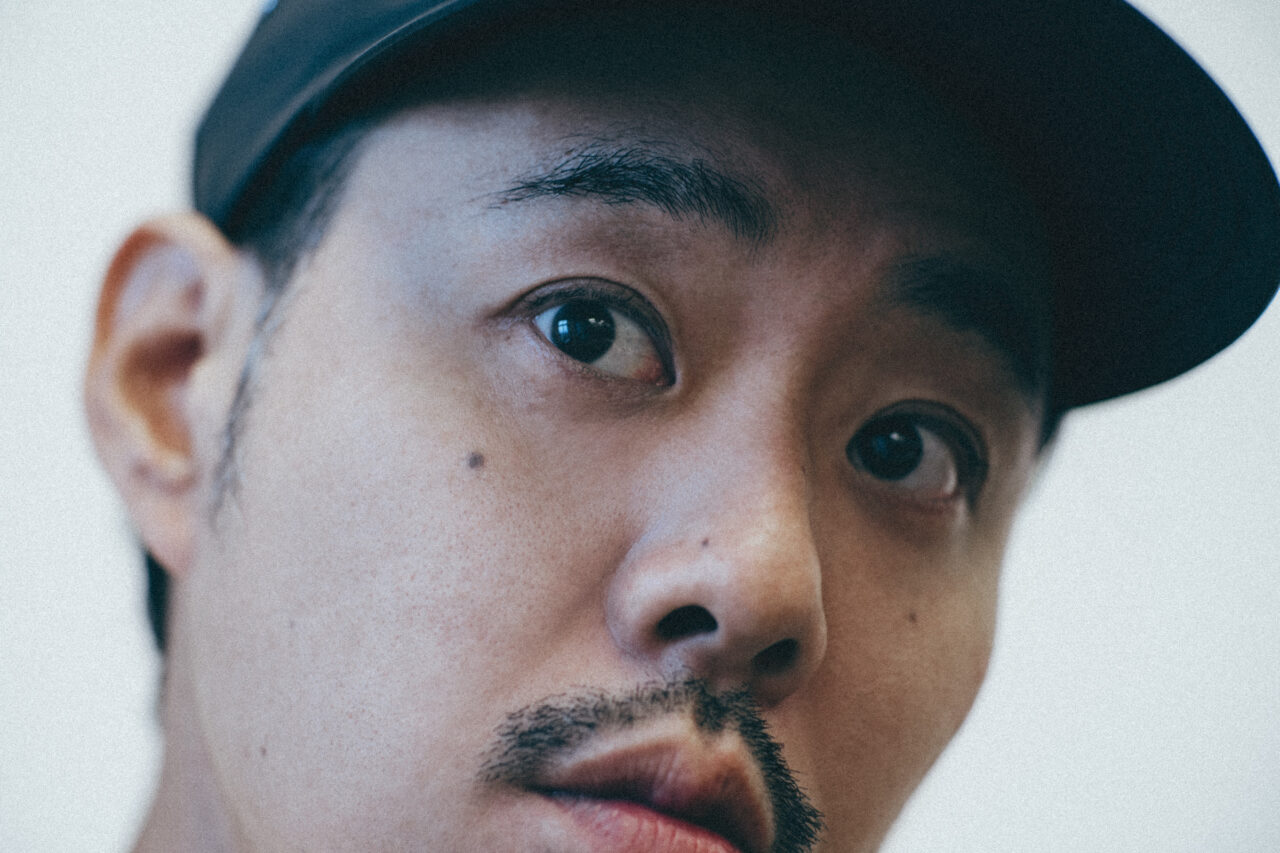 -Tamaki: You were at the stage before the image of "dancers who don't dance and rappers who don't rap" was shared.
Tamaki: I took what I thought was the quickest leap, which was to say, for example, that just talking is dancing, or just talking is music, or some kind of John Cage-like expansion (laughs). I don't dance, I don't rap. When I dared to move in a way that was not hard, or not motivated or sharp, he asked me to move a little less lazily, and I actually started to move more briskly (laughs). I'm actually starting to move more briskly now (laughs), and I'm doing raps too.
Shimaji: No, it wasn't so much that he was moving in a way that seemed unmotivated, but rather that he was simply moving in a way that could have looked that way! Also, it was Tamaki who started talking about rapping! (laughter)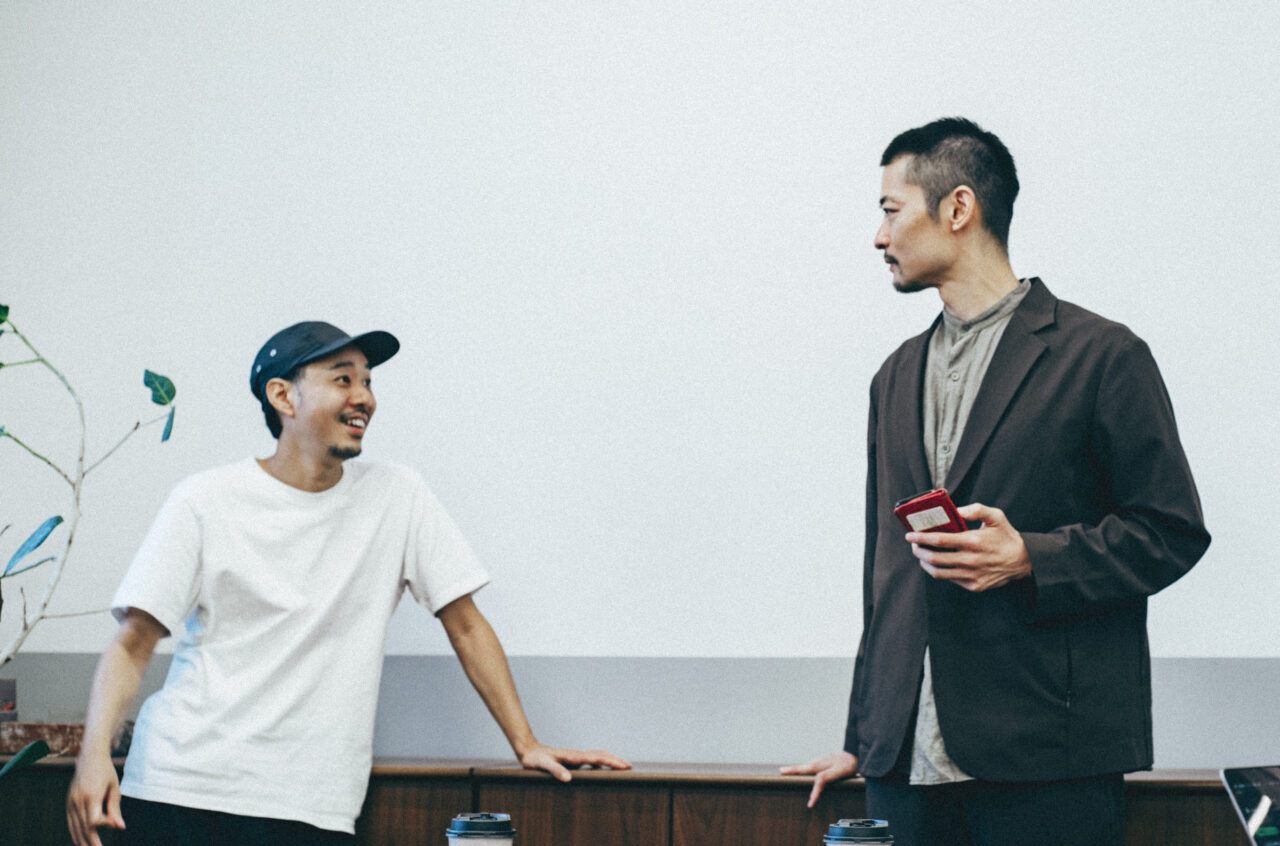 Was Tamaki-san's move choreographed by Shimaji-san?
Tamaki: There is no choreography. I just move on my own.
Shimaji:But it is true that the composition may have become more lively and snappy than it was at first. I'm wondering if it would be good to have a little more time before the performance where nothing happens.
Tamaki: Seriously? I'd like to see a little more of the usual elements. I want to end the play with a dark ending (as many stage productions do), or something like that.
Shimaji:Yes, you are talking about a dark ending. I'm thinking about whether I want to start from the brightly lit seats instead of from the sleeves, or whether I want to end without a blackout, as if to say, "Well, it's over now.