A circle of friends connected by goof-touch! The "FIST BUMP" corner of the radio program "GRAND MARQUEE" features people who live and enjoy Tokyo in a relay format.

On May 22, "PR01 (PR One)." director of Attached Press, which does PR and branding for highly sensitive brands in Japan and abroad. Mr. Miyazaki, who works not only in PR but also as a stylist for artists, directs and produces spaces, etc. We asked him about the surprising reason why he started working in the press and what items he really likes.
Scouted while DJing and became a street brand press
Takano (MC): Mr. Miyazaki, we understand that you are a friend of Celeina's.
Celeina (MC): That's right. She has been really good to me. She sometimes becomes my stylist, and sometimes she asks me for life advice as a big brother.
Takano: I see. Now, please give us your profile first.
Celeina: I was born in Kumamoto Prefecture in 1993. After working for a street brand PRESS, I am currently working as the director of "PR01.TOKYO," an atached press that handles PR and branding for high-sensitive brands in Japan and abroad. And not only PR, but also stylist, space direction and production, mainly for artists.
Takano: So you do a lot of things with a focus on fashion, is that right?
Miyazaki: Basically, I focus on fashion. Then we go beyond that to beauty, music, and space, and so on.
Takano: Sorry for asking a layman's question, but I can't imagine what it is like to work in the press.
Miyazaki: Basically, a press person has a client brand and communicates with the media through that brand. In reality, however, it is a very simple job.
Takano: But in reality, it is a very simple job.
Miyazaki: I got into it because it is an interesting job because it involves moving people's emotions.
Takano: What brands have you promoted recently?
Miyazaki: I've been working with Clarks Originals for the past few years, whose shoes called "Wallabee" are very popular, and I've been doing a wide range of work including beauty and styling shoots derived from that brand.
Takano: You started out as a street brand press, right?
Miyazaki: That's right. I was actually scouted by …… when I was working as a DJ.
Takano: You were scouted while DJing?
Miyazaki: I was scouted by someone who said, "Hey, come to my place for a bit. Miyazaki: That's how it all started.
Celeina: Is it because of the way you were dressed?
Miyazaki: I don't know. It's a mystery to me, too. I'm really embarrassed to tell you myself how I behave or …… (laughs).
Celeina: You are usually very fashionable, and today you are wearing black and chic, but with a playful touch with a cap and sunglasses. What are your fashion points today?
Miyazaki: Today's fashion is like a 1990s American gas station uniform.
Takano: I think I understand. I like it. It looks like old clothes.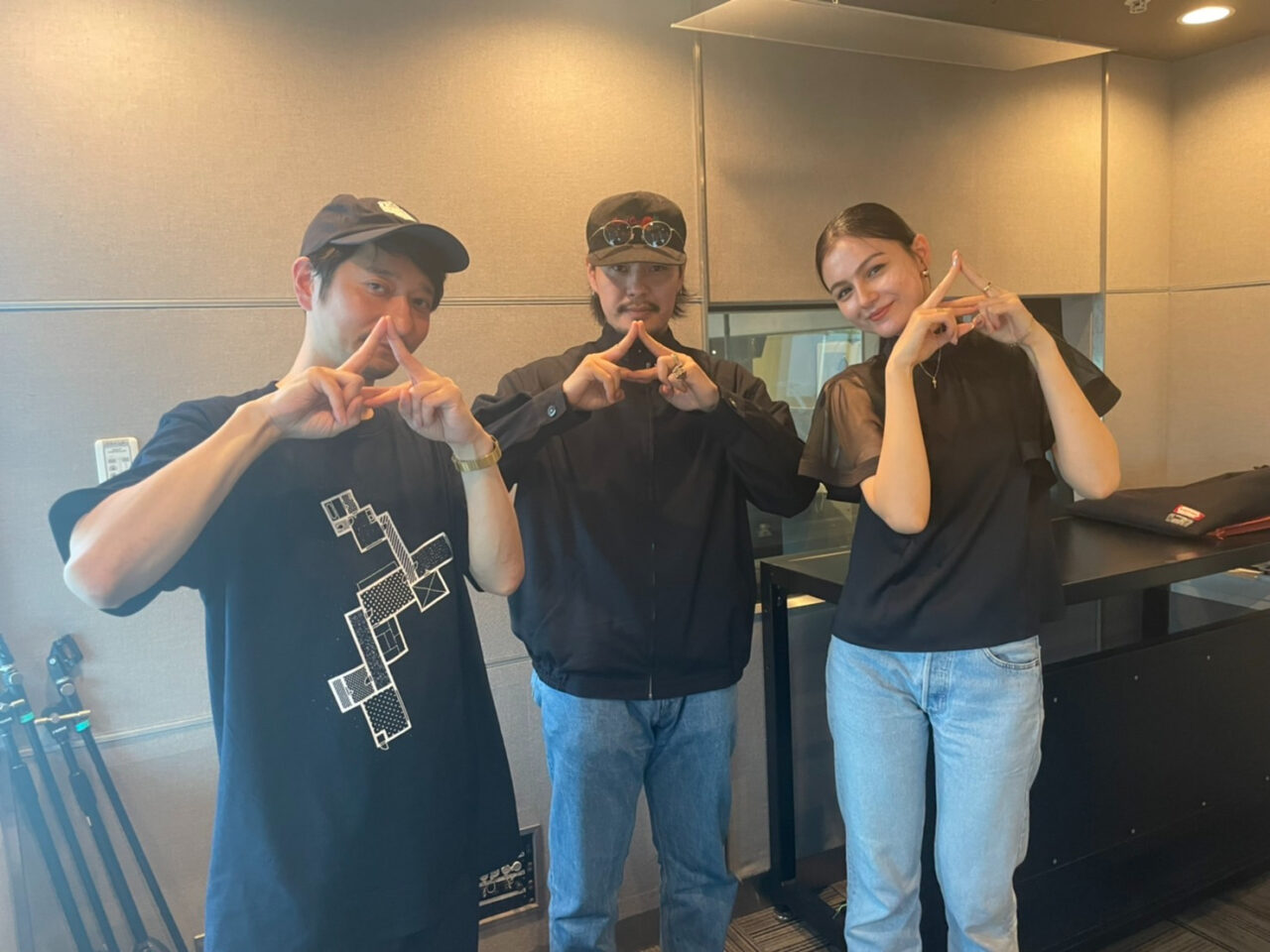 Celeina: But sometimes you wear this kind of clothes, and other times you wear more formal clothes.
Takano: Did you always like fashion?
Miyazaki: I liked it. My older brother was a big influence. My brother has always been in the apparel business, as well as culture. He was the kind of kid who watched "Lord of Dogtown" and "Leon" when he was in elementary school (laughs).
Celeina: That's early for an elementary school kid (laughs).
Miyazaki: I was always fascinated by skaters and the like.
Celeina: You originally played baseball, right?
Miyazaki: Yes, I did. I also played baseball for a long time.
Takano: What kind of fashion did you wear when you were a student?
Miyazaki: When I was a student, I was the same as I am now. I would periodically think about what brands I liked, but I have not changed my style over the years, wearing vintage clothes and matching them with brands that I liked or brands of my friends.
Takano: In high school, when you didn't have baseball practice, did you go to vintage clothing stores?
Miyazaki: That's right. That's why I was so out of place (laughs).
Takano: From the point of view of your classmates, you must have been into mature culture.
Miyazaki: That's right. But I also liked the culture that everyone else of my generation liked.
Takano: Are there any other movies that you would recommend or that influenced you?
Celeina: Certainly, movies are like a fashion bible, aren't they?
Miyazaki: There are a few movies that I watch several times a year. I watch "Those Days with Penny Lane" and "Training Day" again and again. Also, I personally love a movie called "Reality Bites. Winona Ryder is so cute and lovely, and I still like the shabby, worn-out look of Ethan Hawke's clothes in that movie, so I rewatch it several times.
Takano: By "look back," do you mean that you look at them with a focus on fashion?
Miyazaki: Lately, it's not so much for fashion purposes, but more so that I find myself putting them on without permission.
Celeina: You know that "Ano Koro ni Penny Lane to" that I mentioned earlier? I brought that when I was asked to prepare a listener gift for this program, and I love it.
Miyazaki: It was the first time I heard it.
Celeina: If you ever have a chance to look back on it, please do so together.
Miyazaki: Let's watch it together.
Takano: But in "Reality Bites" and "Those Days with Penny Lane," everyone wears shirts and dresses that are a bit retro.
Celeina: That's right. They are all from different eras, but they have a slightly retro feel to them.
Takano: I would like to revisit the fashion point of view and the atmosphere.