A circle of friends connected by gootouchi! The "FIST BUMP" corner of the radio program "GRAND MARQUEE" features people who live and enjoy Tokyo in a relay format.

On September 14, designer Takahiro Okazawa introduced Kai Tanaka, owner of "OPEN BOOK," a lemon sour specialty store in Shinjuku's Golden Gai, to the show. We asked him about his reasons for opening a lemon sour specialty store, his newly opened canned chu-hi factory, and his recently released book of essays.
Why did you open a restaurant specializing in lemon sours?
Takano (MC): It's called "Mr. Golden Street.
Tanaka: That's right.
Celeina (MC): (laughs). This is the second time you two have spoken in this corner, right?
Takano: Actually, yes. Let me explain a little about you, Mr. Hiraki, this is the third day since GRAND MARQUEE started! He appeared on the show about a year ago.
Tanaka: There was one more time after that, wasn't there? I think we approached him, but he said no because there were too many people.
Takano: They said that connecting various people in Tokyo would lead to Mr. Hiraki.
Celeina: You're kidding, right?
Tanaka: Because he is a fixer.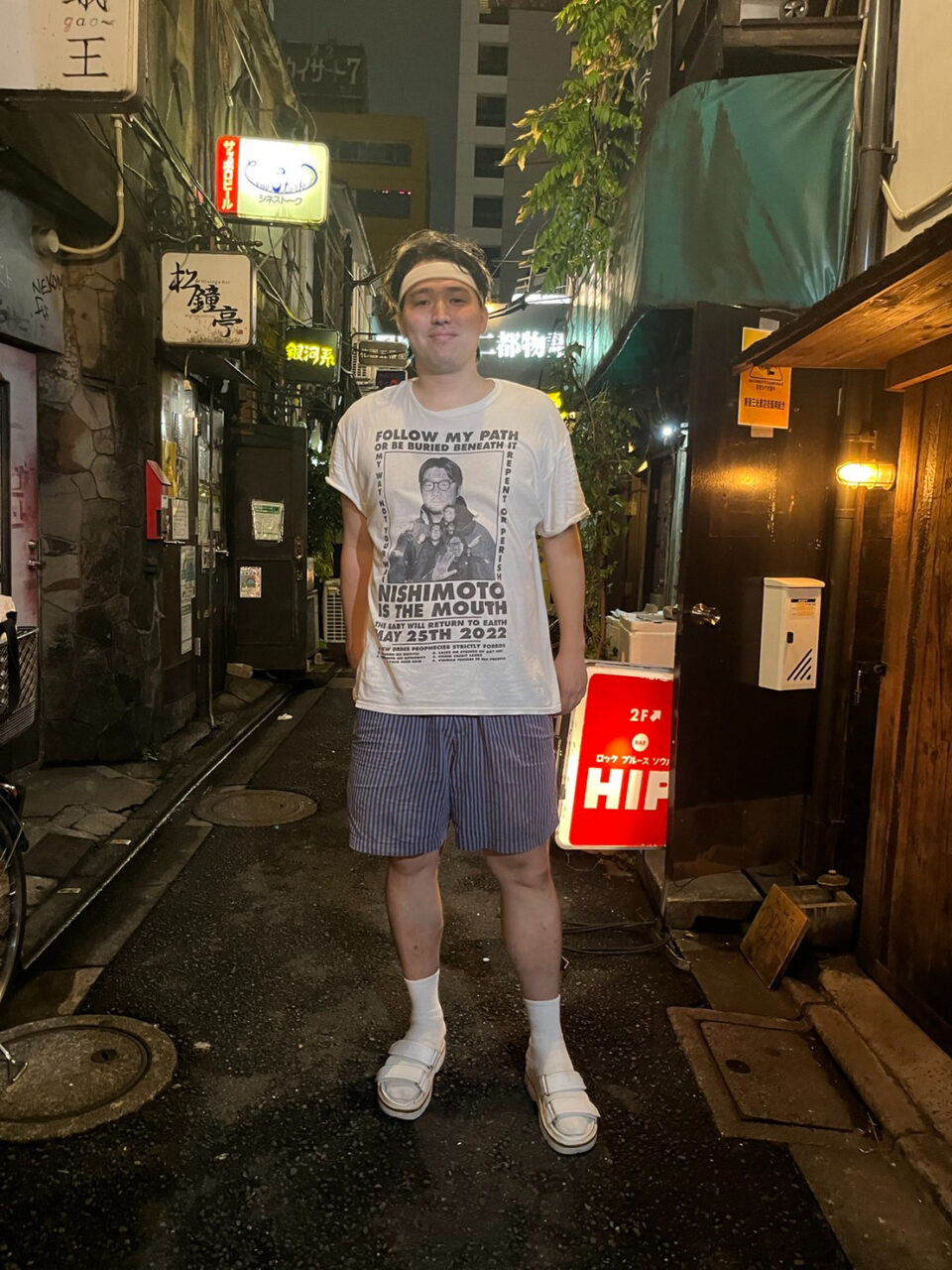 Takano: (laughs). I'm a fixer of Tokyo culture. It says October 5 of last year, so that means it's my second appearance after October 5, 2022.
Tanaka: Nice to meet you. I consider myself a semi-regular.
Celeina: You are an older senior than me.
Takano: That's kind of interesting.
Tanaka: Yes, it is. I remember at the beginning of FIST BUMP, we were going to keep introducing people week after week, and we said let's ruin it by introducing a local high school classmate or something. So we decided to reset the introductions once a week, and that's probably what happened.
Celeina: You mean it was Tanaka-san's fault? (laughs)
Takano: I don't think so (laughs). But that week was quite exciting. Everyone was a bit of a yankee, for example.
Celeina: At any rate, Kai Tanaka, listeners, maybe some of you haven't heard the last time, so I hope we can talk about the OPEN BOOK, which is located in Shinjuku's Golden Gai, right? The bar that is said to serve the best lemon sour ever.
Tanaka: That's right.
Celeina: When did this one open?
Tanaka: 2015, so it's been 8 years now.
Celeina: Lemon sour from the beginning?
Tanaka: From the beginning, we have been doing it with the body of ……, which is nothing but lemon sours.
Takano: With a body (laughs). Do you might have a back menu?
Tanaka: Of course.
Takano: Why lemon sour again?
Tanaka: It's a long story, but it seemed like it would go viral if I made it very strong.
Takano: You mean like you liked lemon sours?
Tanaka: Not at all.
Takano: Really?
Tanaka: That's right.
Takano: So, you were thinking from a marketing perspective that it was going to be popular (laughs).
Tanaka: I call myself the sparkler of the modern lemon sour boom.
Takano: I'm starting to feel that way.
Celeina: No, I'm already being drawn in by your tempo (laughs).
Takano: I heard that it is a very stylish restaurant, and I think the producer of this program visited there, but I haven't been there yet.
Celeina: I want to go there too! Actually, I've never been to Golden Gai.
Tanaka: By all means, anytime.
Celeina: As a Golden Gai beginner, how about OPEN BOOK going first?
Tanaka: We are totally the first, and I recommend it. When we first opened 8 years ago, it was still a difficult place to go, but out of the 200 stores in Golden Gai, there were only 2 or 3 that were non-smoking, and OPEN BOOK was one of them.
Celeina: Is there a particular reason for the no-smoking policy?
Tanaka: I want to make it easy for people to come here. If the restrooms are dirty or if everyone is smoking, it makes it difficult for girls to come. If our store were in Ebisu, it would be an ordinary store, nothing fashionable. It's a gap branding, because it's in a dirty little place, so suddenly it looks fashionable.
Celeina: The business personality part is really showing (laughs).
Takano: Looking at the pictures of the store, the interior is stylish.
Tanaka: We did a great job on the interior.
Takano: The books are lined up in rows.
Tanaka: I started by wanting to use my grandfather's collection of books for the interior. At first, I thought it would be okay if I only charged 100 yen for a glass of water. I thought I could charge 100 yen for just water. I didn't really want to do it. But then I decided that if I was going to do it, I wanted to do it right, and I thought that if I focused on a single drink, it would catch on. Around 10 years ago, restaurants that were particular about one drink became popular. Like a specialty restaurant. That's how I got the idea to open a specialty drink store.
Takano: That was the lemon sour. What kind of customers do you have?
Tanaka: Many of our customers are wonderful people.
Takano: Wonderful people (laughs). Like men and women of all ages.
Tanaka: Yes, they are. Some are typical Golden Gai people, and some are people who use our shop as a starting point.
Takano: Do you stand in stores a lot, Mr. Kairaki?
Tanaka: I don't stand in stores. But if I am called, I will go. Please call me.
Celeina: Where do you go?
Tanaka: Recently, I have been drinking in Golden Gai.
Celeina: Are you drinking at a different restaurant?
Tanaka: Yes, I do.
Celeina: Is that private? Or is it a bit more business-like?
Tanaka: When I'm at the restaurant, I meet people all the time. I am happy that people come to see me, but I have to be there all the time. Also, I don't remember the names of people I haven't seen in a while.
Celeina: Honestly (laughs).
Tanaka: I don't remember their names, but I call them "senpai.
Takano: That's good!
Tanaka: Senpai, it's been a while! Tanaka: Senpai, long time no see! Then there would be about five senpai.
Takano: There would be senpai all over the place (laughs).
Tanaka: Then there would be senpai, and then the teacher, and now the master, and it would be like, "It's about time. It's like it's about to get bad.
Takano: But it's a good solution, or a way to get by. You are very streetwise, Mr. Kai.