A circle of friends connected by gut touch! The "FIST BUMP" corner of the radio program "GRAND MARQUEE" features people who live and enjoy Tokyo in a relay format.

On July 26, artist Tinkerbell Hatsuno introduces Chikara Choshu, owner and organizer of BAR Chikara Choshu, who will appear on the program. Chikara Choshu, who also works behind the scenes in the music industry, including production direction for the Kyoto-based band "Otoboke Be~ba~," which has performed at the world's largest music festival "Coachella," event production for Morio Gata, and roadie for Guitar Wolf, talked about how he became an organizer, Otoboke We asked him about how he became an organizer, the story of his encounter with Be~Ba~Yagata Morio, and the origin of the bar's name.
He was called "Cornelius of Yamaguchi" and came to Tokyo. ……
Takano (MC): Yesterday, Hatsuno-san said that you are a person who pushes the band back hard.
Choshu: I was very happy to hear him say so.
Takano: Also, I was actually with Chikara-san at the Asagaya Loft A's big comedy event (laughs).
Choshu: I was invited to participate in the big comedy event, but I was too shy to participate alone, so I took Hatsuno-kun with me.
Takano: That is what happened. So there was a connection.
Celeina (MC): I would like to introduce Chikara Choshu, an organizer and bartender born in Yamaguchi Prefecture in 1983. He has produced events for the 1990s visual-kei respect band "Various Crosses," led by Tinkerbell Hatsuno, who appeared as a guest yesterday, directed the production of the Kyoto-based band "Otoboke Beba," which has performed at the world's largest music festival "Coachella," and also produced and backed events for Agata Morio. He has also worked behind the scenes in the music industry, including event production and backing band for Morio Agata, and roadie for Guitar Wolf, one of Japan's leading rock 'n' roll bands with fans around the world. In 2015, you opened "Bar Chikara Choshu" in Koenji, named after your own name.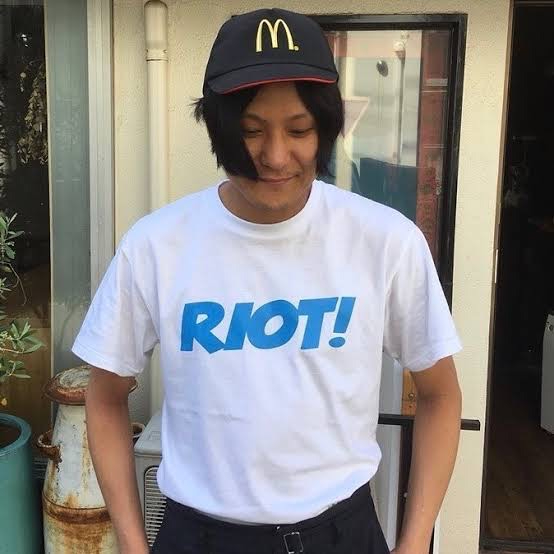 Choshu:Yes.
Takano: First of all, what is the origin of the name "Chosyu Chikara"?
Choshu:There was a period of five years when I was a serious band member. The band was a bit like Takeshigun-dan, and when you became a member, you were given a stage name. I was from Yamaguchi Prefecture, so I was told to choose either "Chokara Choshu" or "Iwai Against the Machine," since my real name is Shingo Iwai and my father's name is Reiji Iwai.
Takano: So it took root from there (laughs). But I heard that you originally wanted to be an event organizer.
Choshu:That's right. When I came to Tokyo, I wanted to be a musician, so I came on an overnight bus with a guitar on my right shoulder, a bass on my left shoulder, a sampler, a theremin, a rhythm machine, and an MTR in my backpack and was called "Cornelius of Yamaguchi. Once I moved to Tokyo, I found that everyone around me was a genius and good at playing guitar, so I gave up on that path. Also, when I was a sophomore in high school, my parents, for some reason, took my 17th birthday very seriously and let me go on a packed tour to "Fuji Rock '00" as my 17th birthday present.
Celeina: The best birthday present!
Choshu:I was in high school, so I liked intense bands and such, but I saw many bands that weren't like that and thought, "What's this? I also felt like I came to Tokyo to organize a festival like "Fuji Rock".
Celeina: This is perfect for today's guest! It's just before the "Fuji Rock" festival.
Takano: You had the spirit of wanting to be an organizer at a young age, but how are you doing at organizing events these days?
Choshu: In the past, I used to gather four or five bands I didn't know and say, "Hey, there's a cool band! But nowadays, people can look things up on the Internet, so I don't think people go out of their way to gather at a particular live music club to find something new.
Takano: It's the times, isn't it?
Choshu: I think it is more interesting to listen to unfamiliar music on the radio or Spotify playlists.