A circle of friends connected by gut touch! The "FIST BUMP" corner of the radio program "GRAND MARQUEE" features people who live and enjoy Tokyo in a relay format.

On August 1, SUNNY-PLAY and Janet Makumu Kanai of the brother-sister pop rap unit Peropero Kyande, were introduced by editor and music writer Yukako Yajima. We asked them about their musical roots and the "gyaru mindset" that underlies their activities.
Separate Musical Experiences Become One
Celeina (MC): First of all, let me introduce your profile. Peropero Kyande is a sibling pop-rap unit from Osaka, Japan, consisting of the elder brother SUNNY-PLAY and the younger sister Janet Mamukana, who "bring gyaru mind to you in the corners of the earth. The singing and rapping of the "bass girl" sister and the track making of the "genius brother" have gained immense popularity among teens, especially on TikTok and YouTube.
Takano (MC): I like the catchphrases "low tone girl" and "genius older brother".
Celeina: I have been watching you on TikTok.
JanetMayuka: Thank you!
Celeina: I'd like to ask you about your music.
JanetMayuka: Yes, that's right. What was your brother doing?
SUNNY-PLAY: I was in a rap group with another person.
JanetMayuka: I was doing something like an underground idol.
Takano: What was it that led you two to start working together?
JanetMayuka: We quit at about the same time. Then my brother asked me if I wanted to join him, and we started working together.
Celeina: How long have you been working together?
JanetMayuka: About two years?
Takano: Everything is going well without any sibling rivalry?
JanetMayuka: About once a year. ……
SUNNY-PLAY: There are some pretty big disputes (laughs).
Takano: What kind of things do you fight about?
JanetMayuka: "You should be more serious! Like that.
Takano: Serious clashes as artists?
JanetMayuka: Yes, we do (laughs).
Celeina: It's more like a clash between artists than a fight as brothers. Were you close when you were little?
JanetMayuka: I loved my older brother, but when he hit puberty, I became like, "I hate my sister. He was like, "You're annoying, go away! There was a time when I hardly spoke to him. It was around the time when my brother entered university that we became friends again.
SUNNY-PLAY: Yeah, yeah.
Takano: As we became adults, the old feeling was reset.
Celeina: That's true. We each have siblings, but there's a bit of a gap between the middle school and high school years.
JanetMayuka: When you hit puberty, you can't help it.
Celeina: So you two started working together, and your TikTok posts were the start?
JanetMayuka: Yes.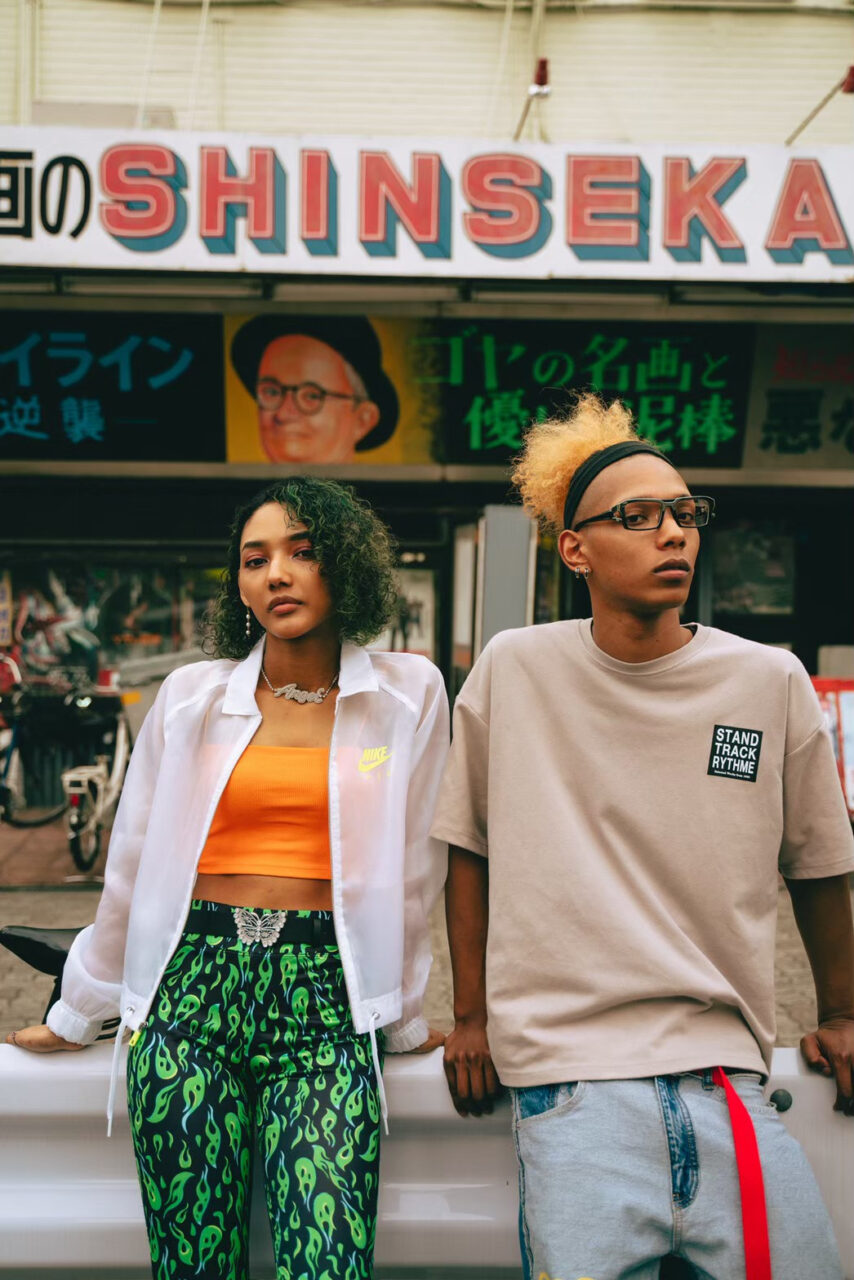 Celeina: Was there a reason why you started TikTok?
SUNNY-PLAY: Originally, my sister was covering a rap song from an anime called "Hypnosis Mike. At that time, there was an amateur rap movement happening on TikTok, and I thought it would be interesting if I joined it. That's how it all started.
Takano: You like Hipmai?
JanetMayuka: I love it.
Celeina: Where do your musical roots lie?
JanetMayuka: I'm a rap artist now, but I grew up on anime songs, and I'm an anime-loving star.
Celeina: Cute.
Takano: How about you, SUNNY-PLAY?
SUNNY-PLAY: There are many, but I am influenced by Prince and Daisuke Asakura of access for J-pop.
Takano: Prince and Daisuke Asakura, it's interesting to see those two come up.
Celeina: Then there is also the element of Janet Makoto's anime.
Takano: That may be the originality of Peropero Kyande.
SUNNY-PLAY: I hope so.
Takano: Now, I would like to go to one song here. I asked your brother SUNNY-PLAY to choose a song that we would all like to listen to together on the radio at this time. What song would it be?
SUNNY-PLAY: I chose a song called "Métropole" by Anomalie.
Takano: Why did you choose this song?
SUNNY-PLAY: It's a song I often listen to in the evening and during lunch, so I thought it would be a good choice.
Takano: Then let's listen to it together.