A circle of friends connected by gootouchi! The "FIST BUMP" corner of the radio program "GRAND MARQUEE" features people who live and enjoy Tokyo in a relay format.

On August 21, nico-san, owner of Shimokitazawa's izakayas "Mabonen", "Omukai", and "Machinaka", will appear on the show. We asked him about the unexpected similarities he found in the izakayas he opened while playing in a band, as well as his goals for the future.
Opening an Izakaya after touring abroad with a band
nico: My name is nico, and I am the representative of HAUTEN Co. Pleased to meet you.
Celeina (MC): Please do. First of all, let me briefly introduce my profile: I am the former drummer of Sawagi, a 4-piece instrumental band. While still in the band, he opened the izakaya "Mabonen" in April 2017 and its sister restaurant "Omukai" across the street in November; the band disbanded in 2019, but in November 2022, they opened their third restaurant "Machinaka" in Shimokitazawa.
Takano (MC): Is everything going well?
nico: It is going well.
Celeina: It's definitely going well; you have opened three stores in the same area.
Takano: You said that you opened the stores while being in a band.
nico: By chance, I had the opportunity to go on a rather long overseas tour with my band, and although we could make ends meet for a month or so of touring, I felt that I had reached the limit of desperately working part-time before and after the tour. So I wanted to create a situation where I could make money without being in Japan, and I started thinking about opening some kind of restaurant.
Celeina: What made you choose a restaurant? After all, it costs a lot to start up, doesn't it?
nico: It didn't cost anything at all. I could have chosen any restaurant, but I had been working part-time at a restaurant for a long time and happened to be introduced to a property that was a vacant restaurant, so I just went ahead and started.
Takano: Isn't it difficult to manage a band and a restaurant at the same time?
nico: It was really hard at first. I was playing gigs on days when the restaurant was closed, and I didn't take a day off for a hundred and ten days or so. It was fun, though.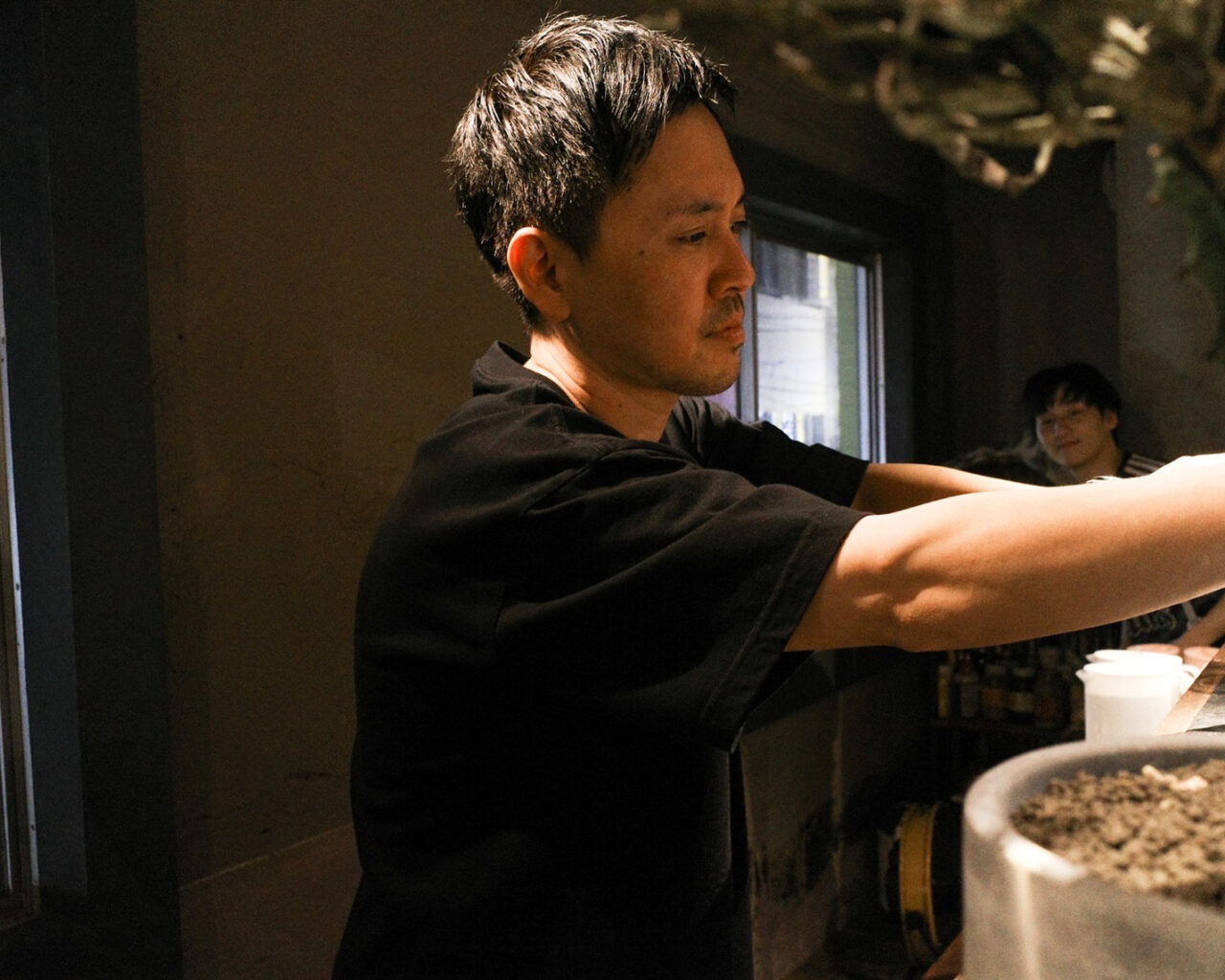 Takano: Nowadays, I think it is quite mainstream to have a "work-at-home" job, but were there people like that back then?
nico: That was just when the number of such people was beginning to increase. There were people who were working at home and also playing in a band at the same time.
Takano: I heard that musicians gathered at your store.
nico: The reason why I started my store in Shimokitazawa in the first place was because I thought that in this town, I would meet people I know when I walk around, so there would never be zero customers. Many of the live performers use the restaurant for their launches.
Celeina: What kind of restaurant is "Mabonen"? What do you recommend for food and drinks?
nico: We make lemon sour using pesticide-free lemons from the Okunan region of Ehime Prefecture.
Celeina: You are very particular! Sounds delicious!
nico: When we performed at "shima fes SETOUCHI" as a band, we were allowed to use products from farmers we met.
Takano: I like that it is linked to your music activities.
nico: It was just by chance, but yes.
Takano: Have there been any good synergistic effects between the band and the store management?
nico: It's hard to say now, but if I were still in a band, I think I would be selling well (laughs). (Laughs) Because the people involved would come to the store so much. (Laughs.) Back then, if we wanted to release a CD, we would frantically hand out sample copies, but now I think we could hand out about 50 copies a day just by being in the store. I wish I had had that kind of connection when I was in the band.
Takano: So it is a place where people in the industry, people in bands, and music lovers gather. We have to go there too.
Celeina: What kind of existence does Shimokitazawa have for you?
nico: I feel like I'm finally getting attached to it.
Celeina: Finally.
Takano: You are not from there, are you?
nico: I am from Kansai. Shimokitazawa has developed and changed, but when I saw it after it was completed, I realized that I liked Shimokitazawa before.
Takano: It is always changing. After opening three such restaurants in Shimokitazawa, when did you start to enjoy working in the food and beverage industry?
nico: It was so much fun from the day I started.
Celeina: You mentioned earlier that you worked for dozens of days without a break.
nico: If you didn't enjoy it, you couldn't do it. I caught a cold on the day I finally had a day off after working for a hundred and several dozen days (laughs).
Celeina: The moment you let your guard down, you get sick.
Takano: Maybe my body knew what it was doing.