The immersive experience to appreciate artists' performance
J-WAVE presents INSPIRE TOKYO 2023 -Best Music & Market-, an urban culture festival by J-WAVE, was took place at Yoyogi National Stadium 1st Gymnasium as the terminal venue on July 15, 16 and 17. The festival featured a variety of food and market events, including worldwide cuisine in a collaboration with J-WAVE's programs, as well as various stalls and events at satellite venues such as KITAYA PARK and Shibuya Cast Garden.
I attended the whole program of the event, and it was intensely hot outside on all three days. The staff even sprinkled water in front of the Yoyogi Stadium 1st Gymnasium. However, the artists who performed at this year's "INSPIRE TOKYO 2023" were as hot as the summer heat.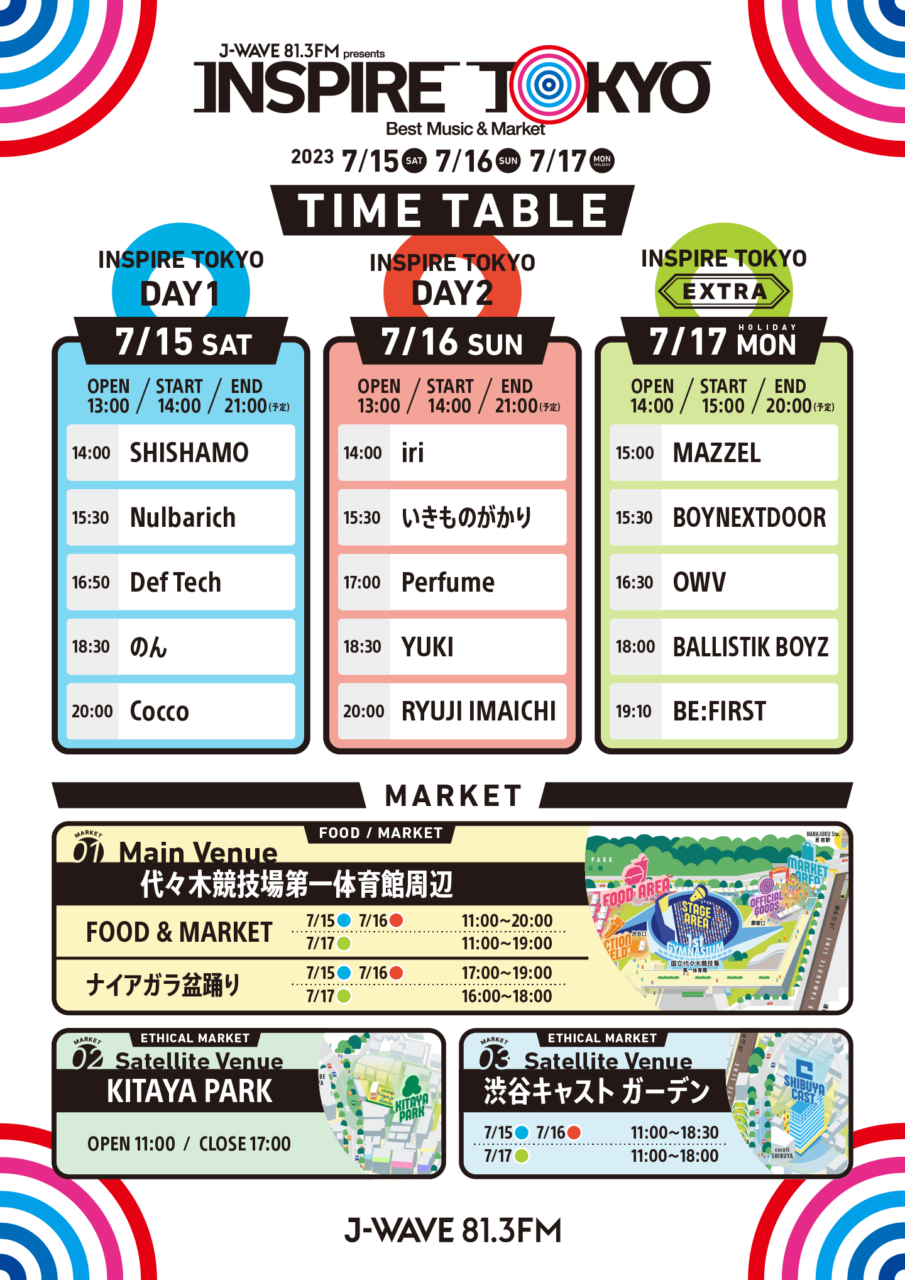 The first two days of "J-WAVE presents INSPIRE TOKYO 2023 -Best Music & Market-" featured five groups on the first day, including SHISHAMO, Nulbarich, Def Tech, Non, and Cocco. The second day saw iri, ikimono-gakari, Perfume, YUKI, and Ryuji Imaichi performing on the stage. Instead of last year's "INSPIRE TOKYO 2022" implemented a three-stage system, there was only one stage this year, and both the arena and stands were reserved. In addition, on the first and second days, each artist performed 60-minute long sets, a system rarely seen at other festivals that allows the audience to experience the artist's performance as if they were immersed in the stage.