A circle of friends connected by gut touch! The "FIST BUMP" corner of the radio program "GRAND MARQUEE" features people who live and enjoy Tokyo in a relay format.

On August 23, Tomokazu Suga of STYLE BAND TOKYO introduces Shogo of the vintage clothing shop "Fukamidori" in Koenji, who has helped many musicians such as Tempalay, Domiko, KOTORI, SPARK!!!SOUND!!!SHOW! He has been in charge of costume cooperation and styling for many musicians including Tempalay, Domiko, KOTORI, SPARK!!!SOUND!!!SHOW! We asked Mr. Shogo about his original Fukamidori T-shirts and towels, a zine that collects events with musicians, and the concept behind the Fukamidori selections.
All positive, TOTONOU goods production and stylist for artists.
Takano (MC): Shogo-san, are you an all-affirmative man? (Laughs)
Shogo: Yes, I am. I got my vibes up from overdoing it at the gym (laughs). I haven't taken a bath at home for six years because I've been pumped up too much and I've been in public baths too much. I only take baths outside.
Celeina (MC): I wanted to ask those who take baths outside, how do you feel about money? (Laughs) Do you buy tickets or something?
Shogo: I buy a set of 10 tickets.
Takano: I see. The gym and the public baths have increased my vibes, and I've become a character who affirms everything (laughs).
Shogo: Yes, we have become that character (laughs).
Takano: We are relatively all-affirming, too.
Celeina: Positive.
Takano: I hope that today we can all be calm while enhancing each other.
Shogo: Thank you very much.
Celeina: I would like to ask about the mystery of the TOTONOU T-shirt that Mr. Suga was wearing yesterday.
Takano: He brought it today.
Celeina: Cute!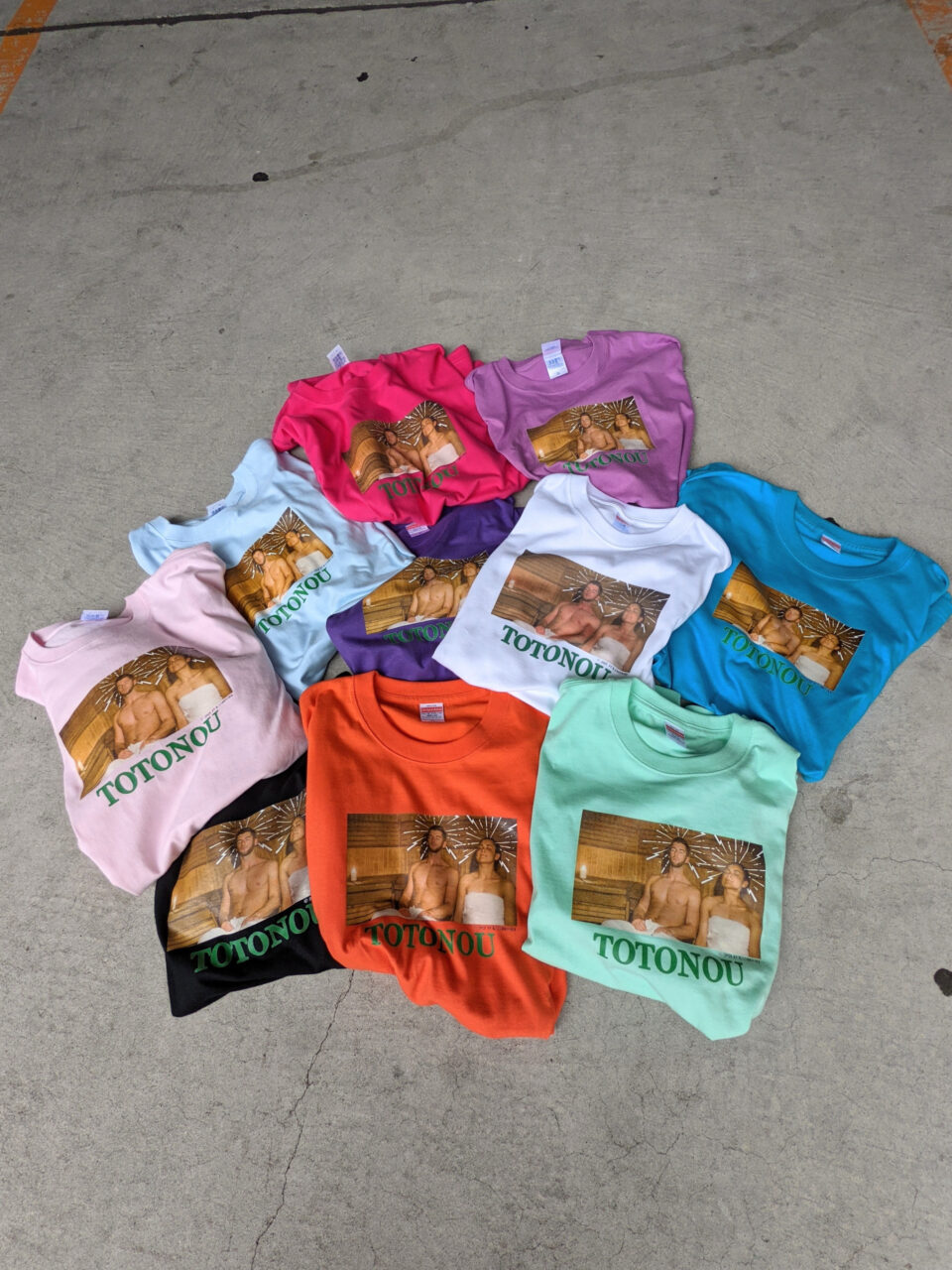 Takano: He brought quite a few T-shirts. Colorful T-shirts and ……
Celeina: The body is a pinkish-purple color with a dark green TOTONOU logo.
Takano: The color lineup, there are so many. They are all TOTONOU T-shirts, aren't they (laughs)?
Shogo: Sorry about that (laughs).
Takano: Some are purple, some are light blue, some are white, some are pink, and …… are all cute. I want them all. Please give me all of them! (laughter)
Shogo: Please buy them all (laughs).
Celeina: Are these actually on sale in dark green right now?
Shogo: They are on sale.
Takano: And what is that next to it?
Shogo: It's a TOTONOU towel.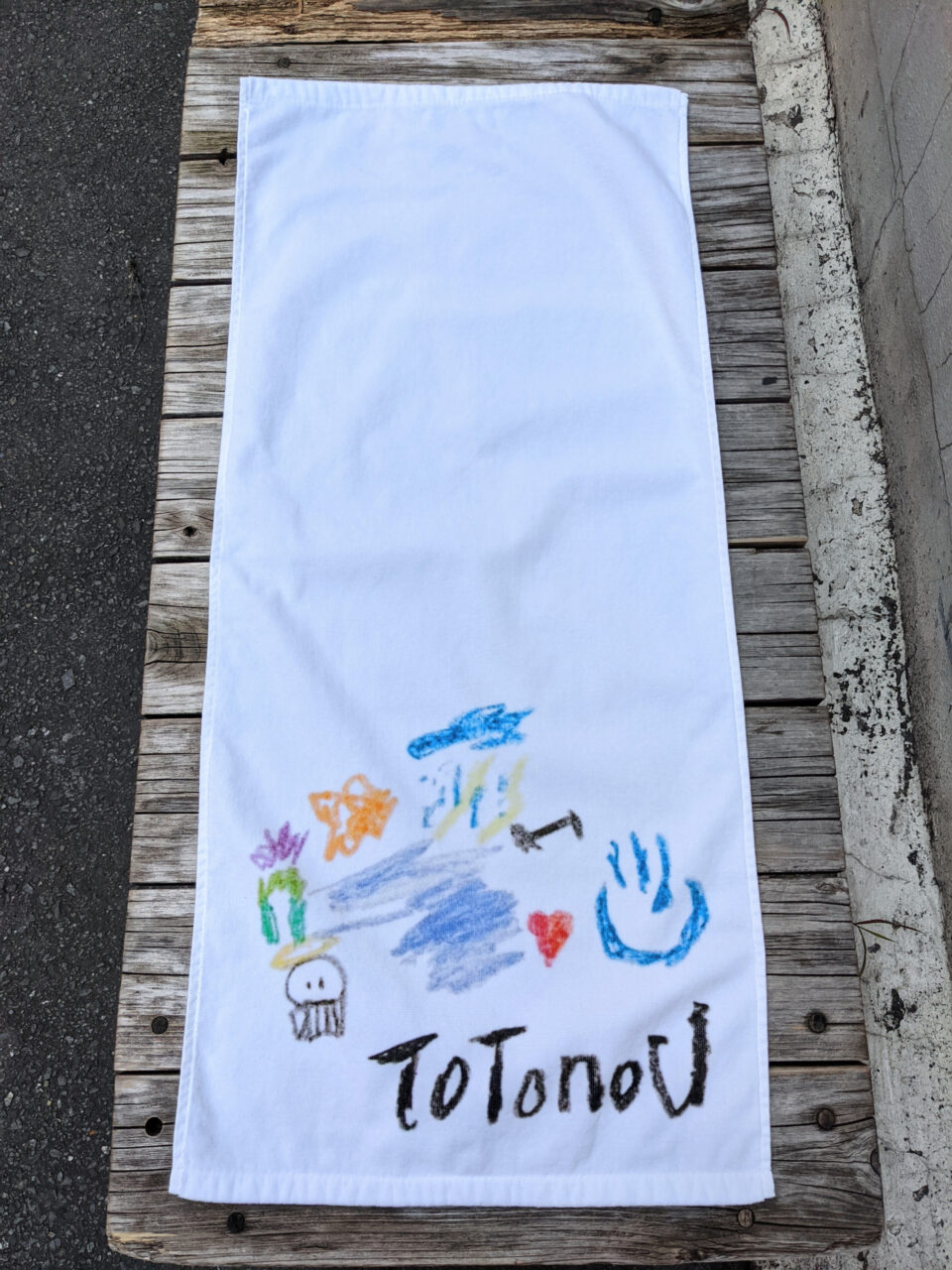 Celeina: It says, "Let's go to the public bath with this. Cute!
Takano: The touch looks like it was drawn by a child.
Shogo: I drew it with crayons.
Takano: Wow! There are skeletons and hot spring symbols. And there are also zine-like booklets.
Shogo: Shu Sasaki of PERIMETRON (a creative group led by Daiki Tsuneda of King Gnu), Ayato Obara of Tempalay, Hikaru Sakashi of Domiko, and I were talking about doing something together. We did a pop-up of clothes, music, and art at Kosugi Yu, a public bathhouse in Koenji. We made this for that.
Celeina: Wow, what does it look like inside? Are there photos, or are there talks that are not interviews?
Shogo: Yes. I'd like to say that you should definitely buy it and take a look (laughs).
Takano: (laughs). What kind of connection do you all have?
Shogo: Yesterday, Tomo (Tomokazu Suga), who was here, introduced me to Tempalay, saying he could help me with costumes and such. From there, Ayato of Tempalay knew Shu Sasaki and was working with Hikaru. We all got along well with each other. It was like that.
Takano: That's great! You were just talking about costumes, but while being a vintage clothing store, you also work as a stylist for artists, don't you?
Shogo: Yes, we do that.
Celeina: What kind of artists do you provide costumes for?
Shogo: Recently, I worked as a stylist for Domiko and Kotori. I also lend out costumes from my store for other jobs. I do this myself, and I also have stylists come in to help me.
Takano: So you have a deep connection with music.
Shogo: I don't know much about music, but I do it (laughs).
Takano: I guess we take a stance of accepting everything with positive vibes.
Shogo: I take it all in stride (laughs).