A circle of friends connected by goof-touch! The "FIST BUMP" corner of the radio program "GRAND MARQUEE" features people who live and enjoy Tokyo in a relay format.

On May 23, stylist Sora Murai was introduced by "PR01" director Shota Miyazaki. We asked him about his favorite fashions in high school before she became a stylist, how he became a stylist, her passion as a stylist, and the genre he has recently become addicted to.
When I was in high school, I was floating around in outdoorsy outfits
Takano (MC): You are friends with Celeina, aren't you?
Celeina (MC): That's right. What's going on in this week's "FIST BUMP" (laughs)?
Takano: Since we are the Celeina family, let's start with your profile.
Celeina: Let me introduce you. Sora Murai was born in Tokyo in 1994. After working as an assistant, he became an independent stylist in 2020. He is a stylist who works in a wide range of fields including fashion magazines such as "GQ JAPAN" and "BRUTUS," commercials, and catalogs.
Takano: Mr. Sora, yesterday Mr. Miyazaki said that you are "a set-up artist born in Ome," but today you are not a set-up artist.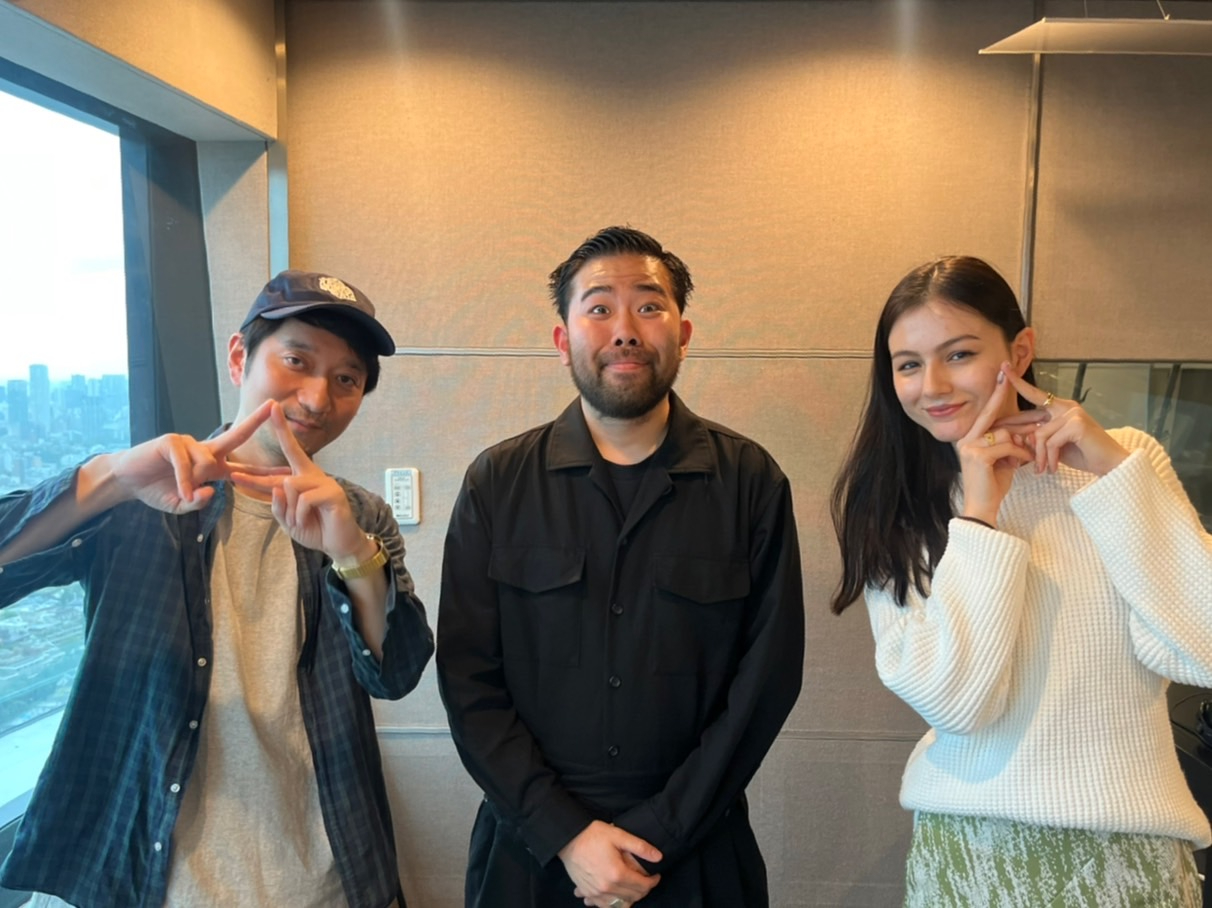 Murai: Today it is. I don't want to be at Mr. Miyazaki's beck and call (laughs). Also, I had some work in the morning that required movement, so I wanted to wear something that was easy to move around in. But it is an all-in-one, so I guess it looks like a set-up.
Celeina: So it was a good compromise between the two.
Takano: Celeina, Sora, and yesterday's guest, Miyazaki-san, are all in the fashion industry or have connections in that area.
Murai: That's right. Mr. Miyazaki introduced me to Celeina, and there were many other people around me who were also connected.
Takano: Do you also work together?
Celeina: He was the stylist for a photo shoot I did the other day.
Murai: That's right. I joined.
Takano: So you are good friends in your private life as well. I am glad to hear that.
Celeina: Thank you very much.
Takano: First of all, what got you interested in fashion?
Murai: I became interested when I was in high school. High school was a private school.
Takano: There you go! I was in plain clothes, too.
Celeina: Me too.
Murai: I went to school in Tokyo and was in the soccer club. I was like that, too, but there was a vintage clothing store nearby, so I often went there with friends after club activities or on days off. There were girls who knew a lot about fashion, so I spent my time looking at them.
Celeina: You are a very sensitive high school student, aren't you?
Takano: What kind of fashion did you wear back then?
Murai: I dressed outdoorsy at the time. I would wear half pants, leggings, and a Patagonia jacket to school.
Takano: Is it unusual for high school students to wear that kind of fashion?
Murai: I was really out of place (laughs).
Takano: So you started out in that fashion, but how did you become a stylist?
Murai: I entered a vocational school, and then I had a mentor, and I followed him to become an independent stylist.
Takano: It's interesting that you started out in the outdoor field.
Murai: My hometown is in Ome, surrounded by mountains, and I spent a lot of time playing near mountains, so it was inevitable.
Takano: So, you also wear fashion that is also functional.
Murai: Yes, I was also a member of the soccer club.
Takano: Now for a song, I asked Sora-san to choose a song that he would like everyone to listen to together on the radio at this time. What song is it?
Murai: I would like to introduce a song by one of my favorite artists as well as a song that reminds me of my sweet and sour middle school romance. Please listen to it. Chatmonchy's "Hananoyume.
I'm into collecting pajamas these days.
Takano: Going back to your work as a stylist, is there anything that you are consistently particular about as a stylist?
Murai: What I am consistently particular about is that I buy a variety of clothes. I buy what I like on a hunch or borrow clothes from others.
Takano: Without being particular about brands?
Murai: I am not particular about brands. I think it's important to try and buy a variety of things, including secondhand clothes and even high-brand clothes. I am conscious of that.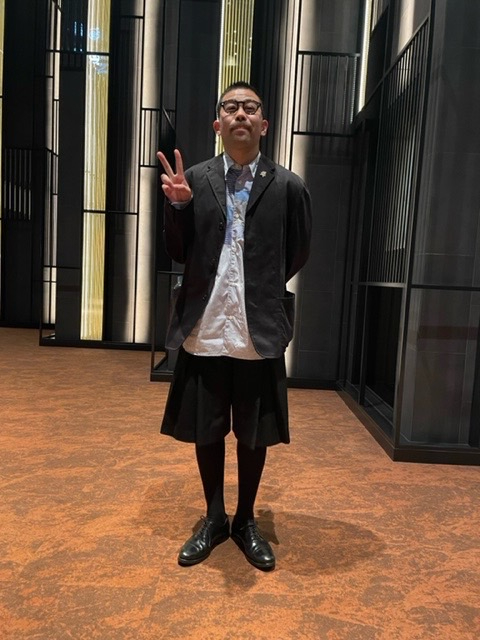 Takano: When styling, do you have any inspiration or input?
Murai: Other fashion magazines, movies, TV dramas, and artists are examples, but in my case, I often look at overseas fashion snaps. I look at snaps taken during overseas fashion weeks, and I learn how to dress people in real clothes, and how to match them with each other. It's interesting to watch.
Takano: Do you look at those things in magazines? Or is it on social networking sites?
Murai: Right now, I think it's mainly on SNS. I'm on various social networking sites as a kind of breaking news.
Takano: People from various countries are using various SNS to combine ideas that we would never have thought of, so I think it would be interesting even for an ordinary person like me.
Celeina: That's interesting. I was curious about what you just said, but for us, shopping time is not a healing time, but it is a time to relax. But for stylists, shopping time is work. Don't you get tired from the constant input-input-input?
Murai: I am not tired. It's fun to look around and see what's out there, and the products are constantly being changed day by day, so it's interesting to look around. I sometimes buy intuitively what I like while researching, and sometimes I get lost in the process.
Celeina: I feel your love for clothes.
Murai: I am glad to hear you say so.
Takano: I also heard a rumor recently that you are into collecting pajamas.
Murai: Until now, I haven't paid much attention to the things around my house, like furniture, but recently I finally bought a lot of things, and I'm really into pajamas. I think I have five or six pairs of pajamas at home now.
Celeina: The so-called "sleeping pajamas" that you wear as a set-up?
Murai: Sleeping pajamas.
Takano: What kind of pajamas do you have?
Murai: I have red-check Ralph Lauren pajamas, some traditional Japanese samue (Japanese traditional cotton robe) that I bought at a local souvenir store, pajamas from the 1990s, and a robe worn by European aristocrats, perhaps.
Takano: Interesting. When you think about it, there are many genres of pajamas.
Murai: There are various genres, and it is very comfortable to be able to switch between on and off. I only wear pajamas when I want to relax.
Takano: My sister is the type of person who wears a set of pajamas.
Celeina: Me too. I don't know if it's because of my American mother's influence, but since I was little, it was the norm to wear pajamas with a top and bottom set-up, and I still prefer it.
Takano: I have a renewed interest in pajamas.
Celeina: FIST BUMP" is a circle of friends connected by "go-touch," and we ask you to introduce us to your friends.
Murai: I will introduce Nanako Higashi, a hair stylist.
Celeina: How did you become friends?
Murai: We worked together last year, and recently we have had many opportunities to work together, and she has an atmosphere of a reliable older sister or something like that.
Celeina: If you had to describe her in one word, how would you describe her?
Murai: Tsundere big sister with a gap between the two.
Takano: Thank you very much. Tomorrow, we will be connecting with Nanako Higashi, the tsundere big sister with a gap.
Celeina: FIST BUMP: Today we have stylist Sora Murai. Thank you very much.
Murai: Thank you very much.