A circle of friends connected by goof-touch! The "FIST BUMP" corner of the radio program "GRAND MARQUEE" features people who live and enjoy Tokyo in a relay format.

On May 10, HIDDY was introduced by Hiroaki Shitano of the apparel brand "WHIZLIMITED". We asked HIDDY, who creates original toys in Harajuku as the director of the toy brand "SECRET BASE" and is also the owner of the takoyaki shop "Ichihiku," about the global trend of "sofubi" and his passion for takoyaki that is different from others.
Sofubi, a Global Trend that is Also a Target for Investment
Celeina (MC): Let me introduce my profile. While in college, you experienced the great boom of Uraharajuku, and you yourself started working part-time at ZAAP, the most famous toy store in Japan at the time, in Shibuya. After graduating from college, when ZAAP closed, he was wondering what to do. Inspired by the lightheartedness of Harajuku seniors, he opened a store called "SECRET BASE" in Harajuku on December 24, 2001, Christmas Eve, named by Mr. Hikaru, a bounty hunter. Since early on, he has been producing and selling original TOYs as well as art and toys made by his overseas friends. Since then, over the past 20 years, he has made various connections in Japan and abroad, and has produced many TOYs that only Mr. Hidy can sell. Last year, the landlord asked him to open an octopus dumpling shop in front of his office. Since its opening, it has become a hot spot in Harajuku for various industry people to mingle!
Takano (MC): I don't know where to start (laughs).
HIDDY: I think to myself. I don't know what to say in one word (laughs).
Takano: Charisma.
HIDDY: When we were young, there was no word for charisma. We were more like funny guys in Harajuku. The younger children wondered what he was doing (laughs). (Laughs.) They would say, "He lives happily every day.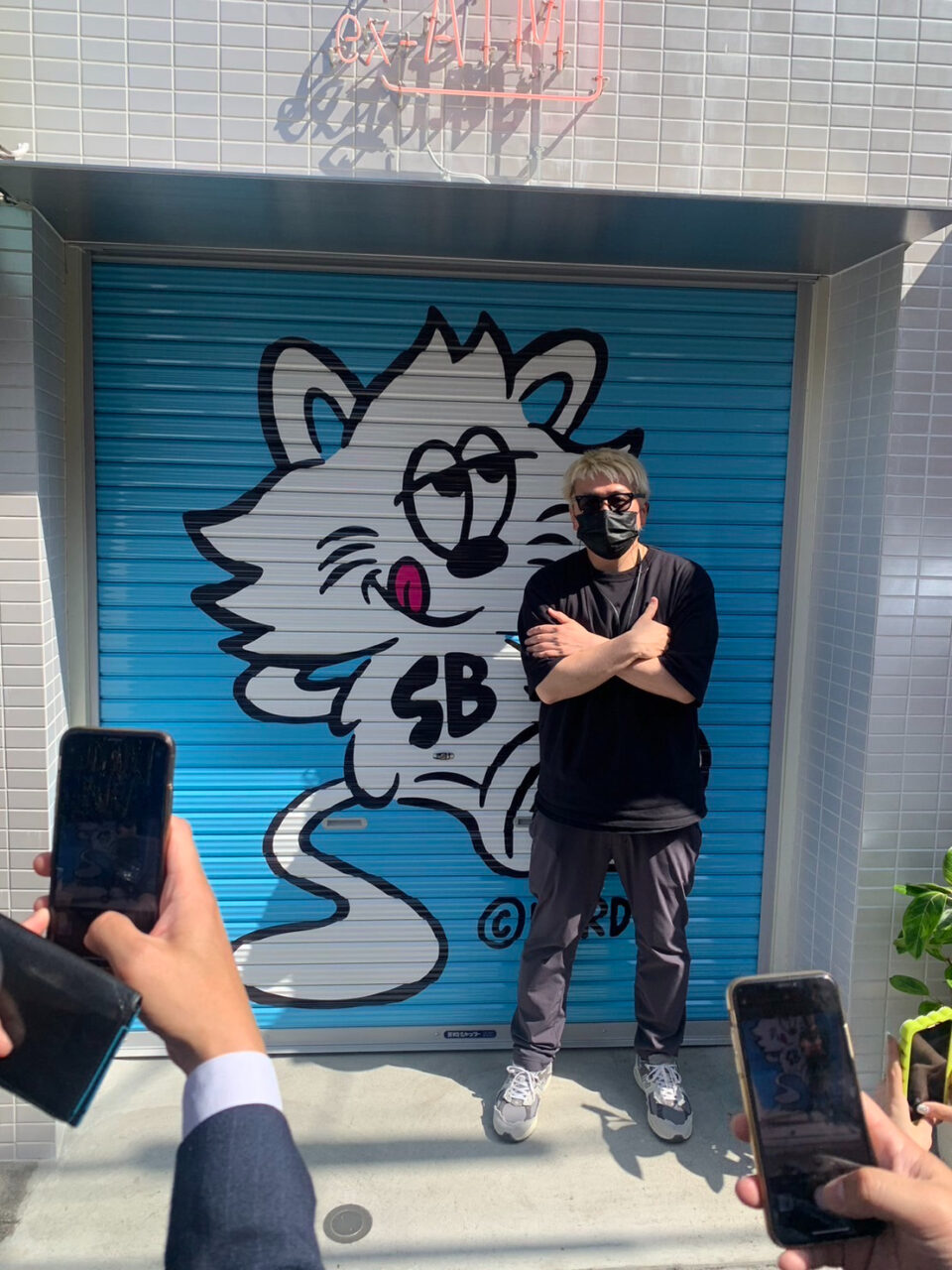 Takano: Is he well known in the figure industry?
HIDDY: I've just been doing it for a long time.
Celeina: I hear that the figure industry has been experiencing a worldwide boom in the past few years.
HIDDY: It seems that the Japanese word "sofubi" has become popular worldwide. I see that only "sofubi" is written in katakana.
Takano: Which countries are the most popular for "sofubi"?
HIDDY: Of course the U.S., but Hong Kong, Taiwan, and other Asian countries are also very popular. France is the same, and sofubi is becoming popular all over the world.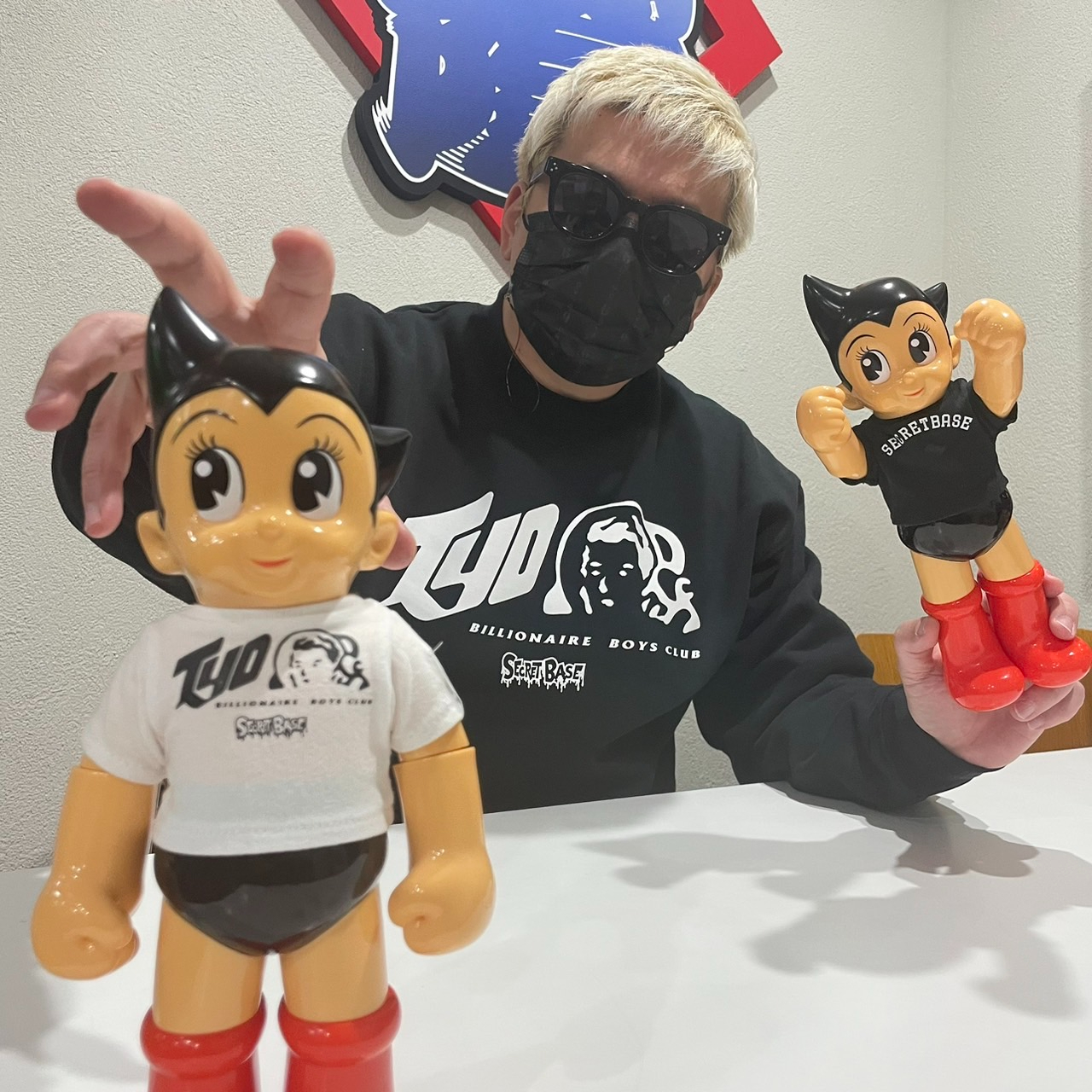 Celeina: I've also heard rumors that it's a sneaker-like product that is being used as an investment.
HIDDY: You are doing a lot of research.
Takano: Sofubi, what's popular right now?
HIDDY: If it's made-in-Japan soft vinyl, I hate to say it, but everything is popular. For sneakers, it's like Nike, Adidas, and Puma. As for soft vinyl, just like in Harajuku in the 90's when they first started designing and making T-shirts, now, all over the world, when young people start designing, soft vinyl is the first thing they do.
Takano: I see…HIDDY-san, do you have any soft vinyl recommendations right now?
HIDDY: I don't have any recommendations. Basically, I am the type of person who thinks that what I make is the most interesting. When I am asked to bring something from a program, I just leave it on the sofa. You don't seem to be interested in it (laughs).
Takano: Someone bring it to me (laughs).
HIDDY: I don't like to advertise myself, and I make what I like. But it is a radio show, after all. I can't see it (laughs).
Celeina: (Looking at the soft vinyl) Let me tell you in words.
Takano: It's really cute.
Celeina: Cute. It's like a character from The Simpsons. Is the half-skeleton your recent style, HIDDY?
HIDDY: There was a technique back then, too. I used to put the skeleton inside. But I think I was the first to put a lot of clear skeletons inside.
Takano: I see. A clown character from a certain burger store.
HIDDY: That was drawn by an artist in New York who fattened him up.
TAKANO: That's also half a skeleton. Also, the dumpling fairy from "Dorohedoro.
HIDDY: That's right. I used to make my own original toys, but I was getting really bored with them, so I decided it was time for me to try to buy a licensed or fixed toy and see how I could arrange it in my own way. I read a lot of manga, and he said, "How about 'Doro Doro Doro'? I was told, "Why don't you do 'Doro Hedoro'? Since I had no choice but to play the main character, I decided to play the old man with the dumplings.
Takano: He's great. He is my favorite character, too, and his texture is very interesting. The texture is really interesting.
HIDDY: That's right. It's a little soft. It's a little different from the figures that everyone has. It's not hard or thin. It's more like loose.
Celeina: It feels good.
Takano: Time is running out, so let's get to the music (laughs).
HIDDY: Please play "2%" by 10-FEET.
Takoyaki without sauce, but with soup stock and spices to go with coffee
Takano: I've been wanting to hear about takoyaki.
Celeina: That's right. I did some research and decided that it was really cool and not a takoyaki restaurant.
HIDDY: That's right. That's what we were aiming for.
Takano: I see. The logo is also very cool.
Celeina: On Instagram, there is a picture of coffee and takoyaki together. What is this pairing?
https://www.instagram.com/p/CrkWF7gPAhA/
HIDDY: I have a good friend who is very fashionable, and he loves coffee. He said, "If you're going to do takoyaki, why don't you do coffee? Because takoyaki is made with flour. Bread is made of flour, and takoyaki is also made of flour, so I thought it would be a good match. Then, my senior gave me a great gift. He said, "I'll introduce you to a coffee shop, and you can do it with him. That person was the president. At first, I thought I could sell Sarutahiko Coffee as usual. But he went out of his way to make a flavor that goes well with takoyaki.
Celeina: Takoyaki blend.
HIDDY: Exactly.
Celeina: I'm numb to it!
Takano: That's good. What kind of flavors do you have in your takoyaki lineup?
HIDDY: Takoyaki don't come with sauce. People are fooled by the sauce. It's like anything tastes good if you put sauce on it. We decided to stop that. Instead, we put a lot of dashi (Japanese soup stock), so just eat it as it is. If you want more, you can add new spices.
Takano: What kind of spices do you have?
HIDDY: Ume plum, pakuchi and bonito.
Celeina: Does Pakuchi go well with it?
HIDDY: Yes, it does. And even people who say they can't eat pak choi can eat our pak choi. I should have brought it with me, I would have given away 100 bottles. Please tell me! (laughter)
Takano: No (laughs). But I'm going to eat it.
Celeina: I want to go!
HIDDY: Please come. Let's do radio there.
Takano: I think I'm really suited for radio. I'm convinced that I'm the funniest person in Harajuku (laughs).
Celeina: Today, you embodied it (laughs). Now, for "FIST BUMP," we are asking you to introduce your friends to us as part of the "circle of friends" connected by the "go-touch.
HIDDY: He is a very interesting person. He is such a rock T-shirt collector that he is probably the best person to talk about rock T-shirts. His name is Yudai Murakoshi.
Takano: Are you an original acquaintance of Mr. Murakoshi?
HIDDY: We became acquainted before I realized it.
Celeina: In a word?
HIDDY: A mouse man.
Celeina: What do you mean? (laughs)
HIDDY: No, Rat Man is like Gian, isn't he? He does some nasty things, but surprisingly, even if he's around every time, he's not depressing, and people don't hate him. In olden times, he is a man of the Showa era.
Takano: Nezumi Otoko is popular too.
Celeina: Yes, he is. Tomorrow, I would like to talk to Yudai Murakoshi, a rock T-shirt collector. Thank you very much, HIDDY-san, director of the toy brand "SECRET BASE" and owner of the takoyaki restaurant "Ichihiku!
HIDDY: I'm really sorry (laughs). Thank you very much.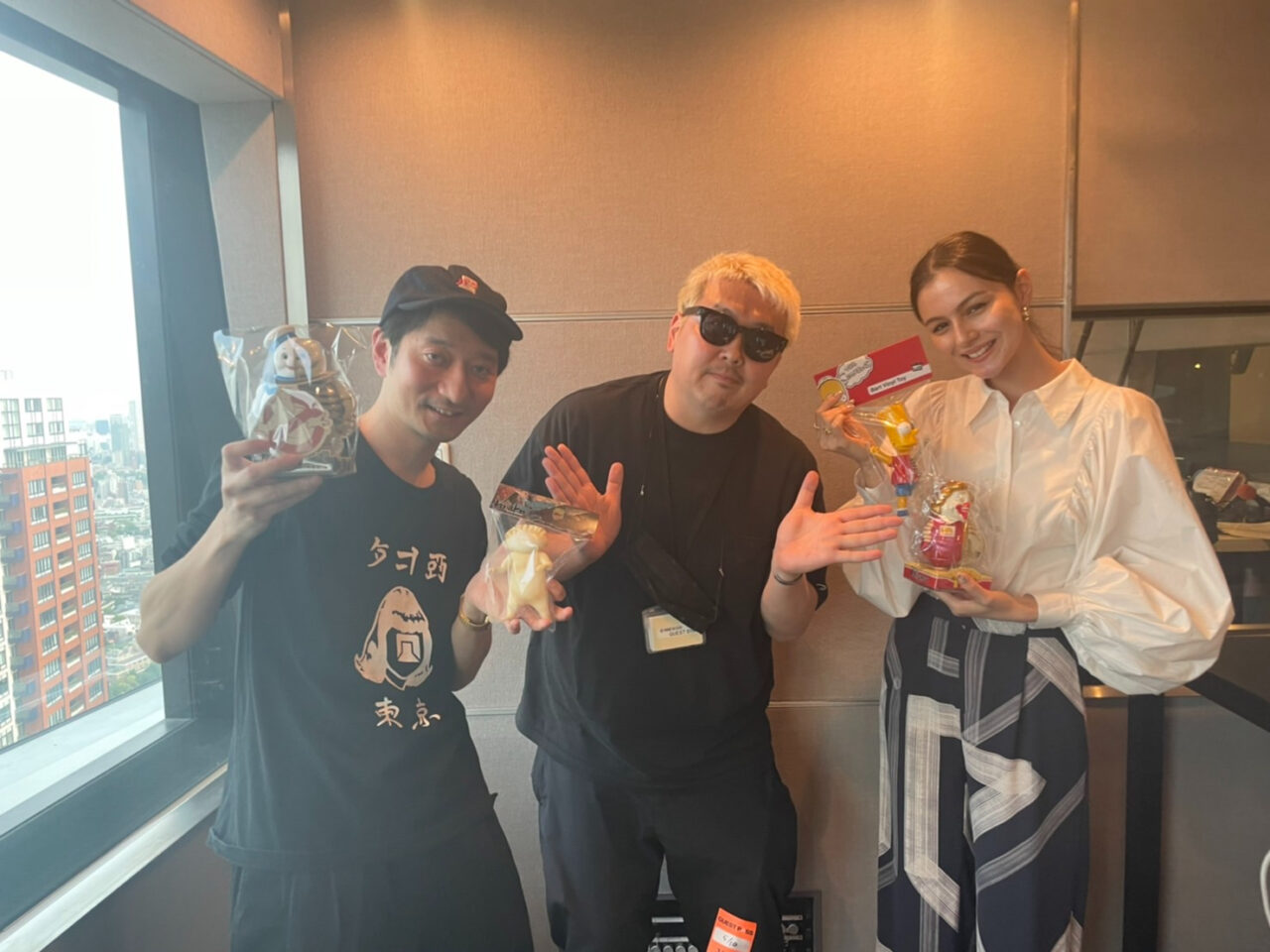 J-WAVE (81.3FM) Mon-Thu 16:00 – 18:50
Navigator: Shinya Takano, Celeina Ann