The timetable for the camping festival "ROMANTIC HOUR '23," which will be held on November 18 (Sat.) and 19 (Sun.) at Onoji Family Campground in Susono, Shizuoka, has been released.
The festival, which will be held for the first time this year, is produced by the FUJI & SUN team, which has launched numerous festivals. Fuji, the festival will feature an all-grass auto-camping site at the foot of Mt. Fuji. The Market will feature "Culture Cuisine" food and craft beer, as well as exhibits by outdoor brands ZANE ARTS and NATAL DESIGN, In addition, talk sessions are scheduled to be held.
Schadaraparr, Tomoyuki Tanaka (FPM), and others will perform on the 18th, and U-zhaan x Ring ROY x Chinza DOPENESS, Minyo Crusaders, and others on the 19th.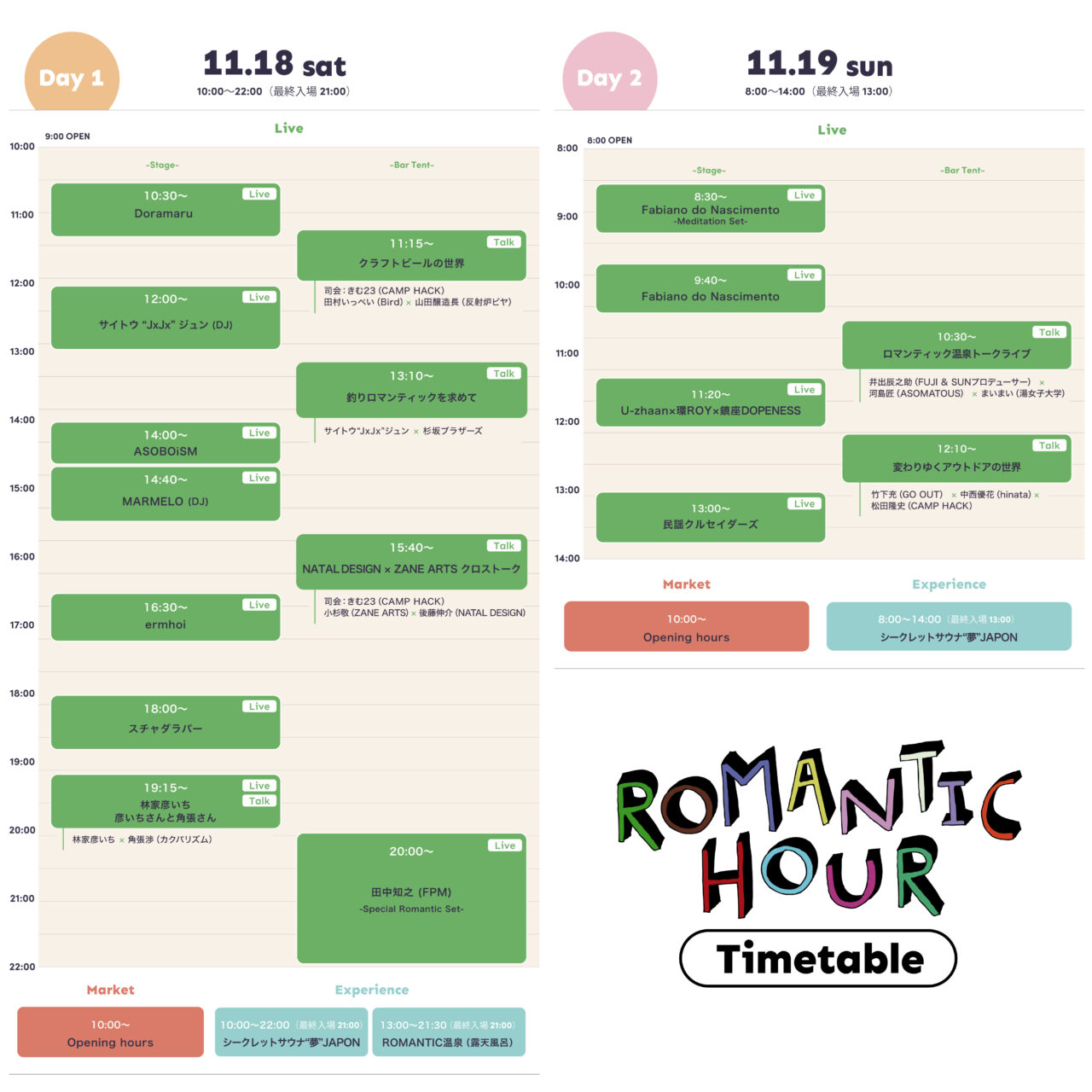 Tickets are now on sale at various play guides.
Performance name: ROMANTIC HOUR '23 (read: Romantic Hour Nijusan)
Date : November 18, 2023 9:00 OPEN 10:00 START 14:00 CLOSE
Venue: Onoji Family Campsite (2934-3 Suyama, Susono, Shizuoka, Japan)
Organizer : ROMANTIC HOUR '23 Executive Committee
LIVE
Music : Tomoyuki Tanaka(FPM) / Saito "JxJx" Jun(YOUR SONG IS GOOD) / ermhoi / Fabiano do Nascimento / Schadaraparr / U-zhaan x Kanroy x Chinza DOPENESS / Minyo Crusaders / ASOBOiSM / MARMELO
Story Hikoichi Hayashiya
Talk Takashi Kosugi(ZANE ARTS)
MARKET
ZANE ARTS / NATALIA / ZANE ARTS / NATALIA / ZANE ARTS
ZANE ARTS / NATAL DESIGN / TheArth / asimocrafts / ASOMATOUS / OLD MOUNTAIN / KEN-CUBE / Danner / Kakubalism / is-ness / PAPERSKY / NANGA / C-PLUS HEAD WEARS / MAAGZ / hinata
Food
Gotenyama Aikiku / TON-MESHI / Shikio and Chaiko / TESHIO DELI
Drink
RePuBrew / GIN BAR NUMAZU DISTILLERY / VERTERE / 3rd Barrel Brewery × CAMP HACK
EXPERIENCES
Sugisaka Brothers
ACTIVITY
Secret Sauna "Yume" JAPON / ROMANTIC Onsen