A circle of friends connected by gootouchi! The "FIST BUMP" corner of the radio program "GRAND MARQUEE" features people who live and enjoy Tokyo in a relay format.

On April 18, Kensuke Yamamoto, President of Sumally, was introduced by video director Atsunori Higashiichi. Yamamoto, who runs Sumally, a smartphone storage service called "Sumally Pocket" also has a deep knowledge of art, music, food, and theater, and moved to Karuizawa in the summer of 2020. We asked him about his recent recommended works and how he decided to move to Karuizawa.
"Sumally Pocket" where you can leave your luggage for as little as 275 yen/month
Celeina (MC): Let me briefly introduce your profile. Mr. Yamamoto was born in 1981 and is originally from Kobe City. After working for an advertising agency and as a magazine editor, he established Sumally. He is developing a smartphone storage service called "Sumally Pocket".
Takano (MC): Mr. Yamamoto, Toushi-san said that if he had to describe Mr. Yamamoto in one word, it would be an interesting person.
Yamamoto: What do you think? I don't think he is very interesting (haha).
Takano: That's a really hard way to be introduced (haha). Did you meet with Mr. Toushi quite a bit?
Yamamoto: Yes, I did. I live in Karuizawa, and Toushi-san comes to visit me quite often. A while ago, Toushi-san rented a house in Karuizawa. We have been friends for a long time and hang out together outside of Tokyo.
Celeina: I heard that you are developing a smartphone storage service called "Sumally Pocket" on Sumally. Sumally Pocket is a very popular convenient storage service that allows users to pack their belongings in a special box and send them to their smartphones or PCs for management. How did this service come about?
Yamamoto: I am running a startup called Sumally, which is a Twitter-like social media service that allows users to see what the people they follow want and have. I thought it would be interesting to expand on that and visualize what people really want and what they really have. We started Sumally, and then expanded it into a service called Summary Pocket, which was launched in 2015, about 8 years ago. Thanks to your support, many people are using our service, and we are working hard every day.
Takano: This is very convenient. There is a monthly fee.
Celeina: It's very affordable.
Yamamoto: You can join for as little as 275 yen. I think there are people who haven't finished changing their winter clothes yet, so this is a great way to change clothes. Winter clothes are difficult to store.
Takano: That's right. Jackets and such are very bulky. With the use of the Sumally Pocket, you can store your winter clothes in the same way.
Yamamoto: When we arrive at the warehouse, we take a picture of each item. We can visualize at our fingertips what we have left in the warehouse, and from there we can take them to the dry cleaners. When necessary, I can take them out one by one.
Reasons and Significance of Moving to Karuizawa
Takano: Mr. Yamamoto, you have moved to Karuizawa.Why Karuizawa?
Yamamoto: I like Karuizawa, and I used to go there regularly, but I wanted to have my own base. I started preparing for renovations thinking I could go about twice a month, maybe 6 nights a month on weekends, and then the new Corona infestation started. Our company has also started remote work for all employees from the spring of 2020, and we are still continuing to work remotely throughout the company. We are still continuing to work remotely throughout the company. We have renovated the cabin to make it comfortable in winter, including a wood-burning stove, and have updated it so that it can be used year-round. We usually live in the forest.
Takano: Thank you again from Karuizawa today. I read in another article that you have a very stylish room.
Yamamoto: I don't think it is that stylish (haha), but I like to think for myself. I bought a condominium in Tokyo a long time ago and built it from a full skeleton, choosing the materials and components myself. Of course, I didn't hire an architect, but I had a construction company work on it.
Celeina: Did anything change after moving to a place with so much nature?
Yamamoto: I don't know. Sleeping in the forest is so luxurious that I feel like I'm glamping every day. I don't want to be inconvenienced, so I have fiber-optic cable and other things in place to make my life comfortable and convenient. I feel that being surrounded by the forest in such an environment is truly a luxury every day.
Celeina: I understand that you also like art, music, food, and theater, and that you also write.
Yamamoto: I love my job the most, but I also like art and theater, and I go to see a lot of them. I also like music, especially classical music, and often go to concerts. I also go out of my way to eat at local restaurants. I also like modern theater, but I also like Bunraku and Kabuki.
Celeina: I've heard that you are involved in some kind of input every weekend.
Yamamoto: That's right. I often go out somewhere in a daze. Last weekend I was in Kyoto for the preview of "KYOTOGRAPHIE," a photography festival held annually in Kyoto and now in its 11th year. It was worth seeing the works of Yuriko Takagi, one of Japan's leading fashion photographers, displayed in the old space of Nijo Castle, a castle. Also, Ms. Nodoka Okizawa, a female conductor whom I had interviewed two years ago, was appointed as the permanent conductor of the "Kyoto Symphony Orchestra" in Kyoto. There was a concert conducted by her, which I also attended. I also had the opportunity to interview her this time, so I went to Kyoto with that in mind.
Takano: We asked Mr. Yamamoto, who has such a deep knowledge of culture, to choose a song he would like everyone to listen to together on the radio at this time. What song would it be?
Yamamoto: I often go to Magokoro Brothers' live performances, and I chose the song "Sunset Hunter" from their last album "Cheer" because it fits the time perfectly.
How do you switch on and off as a business owner?
Celeina: Continuing on, I would like to ask you, Mr. Yamamoto, since you have various cultural inputs such as art, music, food, and theater, is there any work that you would like to recommend to our listeners and us right now?
Yamamoto: Last weekend I saw the newest "Detective Conan" movie, "Detective Conan: Kurogane no Submarine". I've seen Conan movies every year since I was a kid, and I usually go to see them on the weekend of their release, but I think this one was the best in recent years. I was quite moved by the great performance of Ai Haibara-chan in the movie, which is good enough for adults to watch.
Celeina: I'm curious about it.
Takano: What is the appeal of this work?
Yamamoto: I like the deep setting of the characters and the feeling that both first-time viewers and regular viewers can enjoy it. It was very interesting. I was born in 1981, and I think it would be interesting for people of my generation to go see it again after a long time.
Celeina: One more question for Mr. Yamamoto. As a manager, how do you switch on and off? I was wondering if you always think about your work.
Yamamoto: As a manager, if you thoroughly pursue efficiency and rationality, you can have fun in a sporting way, but if that is your whole life, it can be suffocating at times. I think it is better for me to be exposed to things made by people who are pursuing a very high resolution, not rationality, so that I can find a balance. I like classical music and contemporary art. I think that may be how I keep a balance in my mind.
Takano: You are balancing your life through cultural input.
Celeina: FIST BUMP is introduced to you by your friends.
Yamamoto: We have been talking about classical music since a while ago, and I would like to introduce Kenshiro Sakairi, a conductor. Mr. Sakairi originally worked as a company employee after graduating from a normal university, not a music college. He worked for "Pia" for a long time, and during that time, of course, he was also active as a conductor.
Takano: If you were to describe you in one word, what kind of person would you be?
Yamamoto: I think that he is a person whose activities are expected to continue to increase in the future.
Takano: Yes, I do. Thank you very much. Tomorrow, we will connect to conductor Kenshiro Sakairi.
Celeina: Today we have Kenji Yamamoto, the president of Sumally. Thank you very much.
Yamamoto:Thank you very much.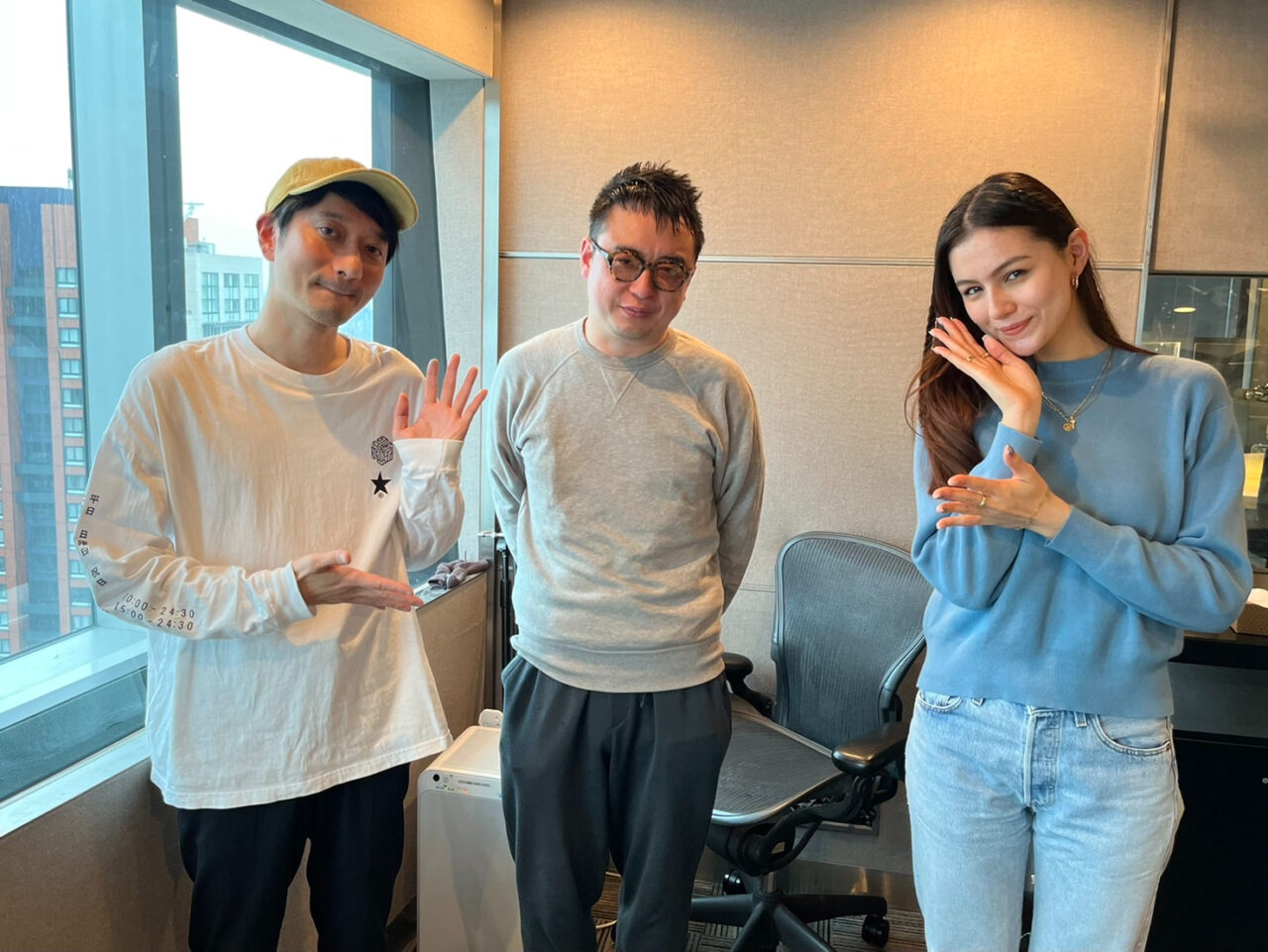 J-WAVE (81.3FM) Mon-Thu 16:00 – 18:50
Navigator: Shinya Takano, Celeina Ann