This year marked a pivotal period for jazz drummer Shun Ishiwaka. Widely recognized for his role in the film "BLUE GIANT," Ishiwaka has been a standout presence in the realms of jazz and academic music. His journey began in his teenage years when, at the tender age of 12, he guest-performed at Terumasa Hino's live show. His academic prowess was evident as he graduated at the top of his class from Tokyo University of the Arts' percussion program. In recent times, his influence has transcended into the pop music sphere, forging collaborations with renowned artists such as Ringo Sheena, Gen Hoshino, Kenshi Yonezu, and more.

Unveiling the astonishing work ethic that goes beyond his incredible performances, leaving us wondering when he finds time to sleep. Collaborating across genres, famous and lesser-known artists alike, his remarkable versatility knows no bounds, consistently delivering performances that defy expectations. Whether in the studio or on stage, he surpasses the ordinary. Unraveling the wellspring of Shun Ishiwaka's boundless potential and his unyielding commitment to pushing the limits.
Pandemic-Formed Bonds Flourish: The Year 2023 Unveils Blossoming Relationships
– Please tell us about your main activities this year. How did you come to participate in Ayaka's nationwide tour "Funtale Tour 2023"?
Shun Ishiwaka: I think it was before the pandemic, but I was invited by Kei Kono, a keyboard player who also went on this tour with us, and we went to the site where Ayaka was recording. From there, you entered the pandemic, but even though you were no longer able to perform live, you were still only recording. Even during the stay-home period, those who were able to move gathered in secret. Under these circumstances, Mr. Kono gave us a lot of work.
Kono has produced various artists, including Hikaru Utada. For example, we worked together on an album by Chiaki Sato of "Kinoko teikoku," and although he is my senior, we are close like "brothers." We built up that kind of relationship through the pandemic, and when it was over and I was finally able to move around freely, I was invited to join Ayaka's tour, where he was the banjo player.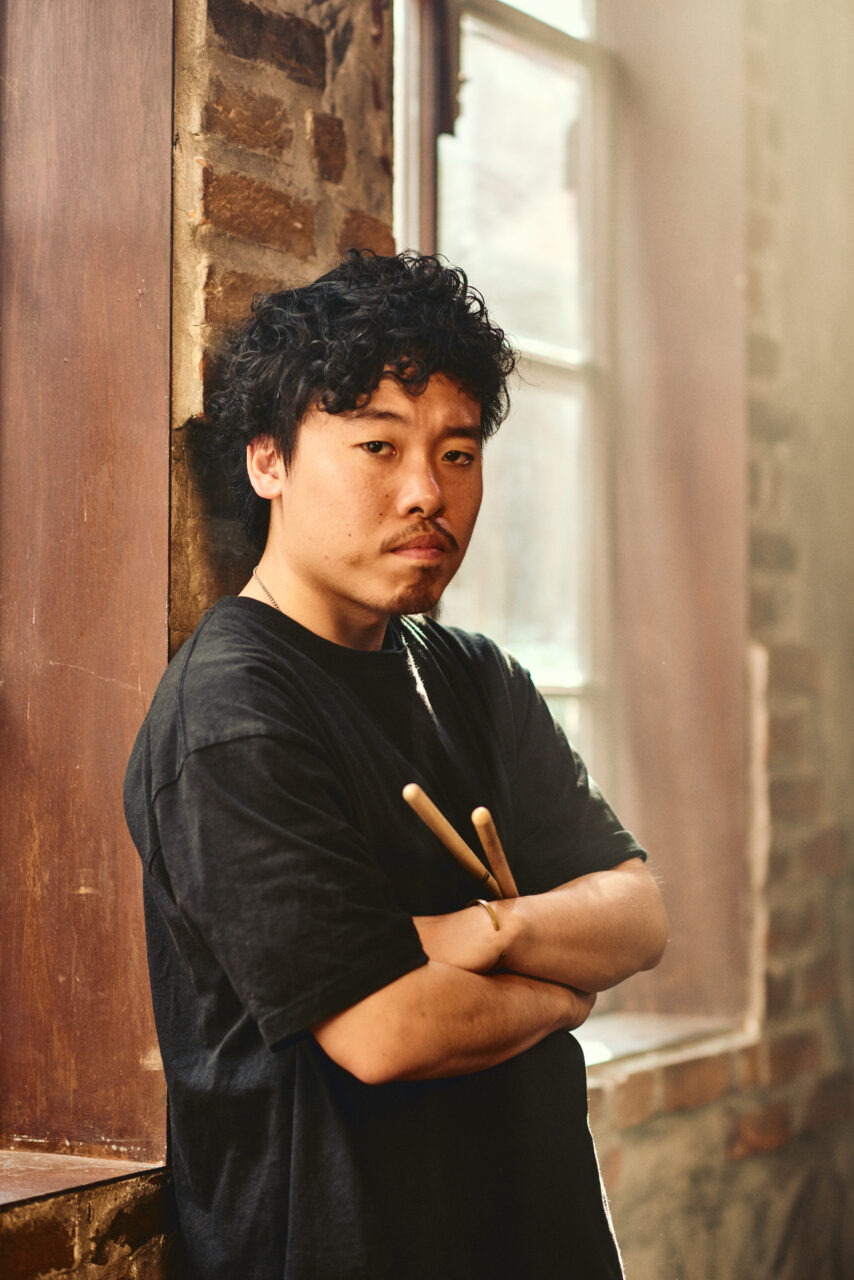 – It seemed Ayaka hoped to perform live with musicians of her generation.
Ishiwaka: Yes. At first, it was just me, Kono, guitarist Shudai Nishida, and bassist Shunsuke Ochi (CRCK/LCKS), who has played with us many times. The tour was interesting. It is a well-known fact that Ayaka is a great singer, but when she performs live, there is a general image that the "vocalist" and the "backing band" are often separated. However, we were not that type of musicians, so we did not try to play along with the synchronized music, and it was a challenging site to do it by ourselves without using clicks as much as possible.
For example, instead of using electronic drum pads for the main bass drum, snare, and hi-hat, I lined up three different types of live bass drums and changed their tones for each song. I am not the type of drummer who plays sampled sound sources using electronic drums, but this time I introduced a Roland SPD (sampling pad), and for the first time, I used it to produce the synthesizer's upper mono material and sampled sound sources while playing the drums. Ochi and Nishida also played on the pads while playing their instruments, and at the same time they would change the pedal effectors on their feet (laughs). While we were doing this, we also had a high degree of freedom in the physical performance, and we were able to create an organic ensemble, with Ayaka singing in response to the ensemble. That is why I felt so much tension at each performance. She seemed to be enjoying herself, and it was a very fresh experience for me as well.
– It was easier to find a way to make a living with pop music, which requires a lot of studio work, than with jazz, which is mainly performed at live houses. In that sense, the pandemic may have been one of the major triggers that led you to the pop field.
Ishiwaka: Maybe so, and while everyone was thinking "I have to move somehow," I happened to be blessed with connections with people who had such skills and artists who never stopped creating. Well, I think that many artists were creating their works by recording at home, and I myself, in the band SongbookTrio, which I formed with Nishida and Kakudo Mami, released four works, although they were Bandcamp-only. I think it was a good time, but as you say, it was very difficult to have a live audience, since many places in the jazz scene introduced live streaming. A lot of tours got cancelled.