A circle of friends connected by gootouchi! The "FIST BUMP" corner of the radio program "GRAND MARQUEE" features people who live and enjoy Tokyo in a relay format.

On July 3, Trombook Ooishi, a salaryman manga artist who loves books and manga, appeared. We asked him about his encounter with Book-Off, which changed his life, and about his life as a salaried manga artist.
Book-Off Lover's Encounter with Book-Off
Celeina (MC): First of all, let me introduce my profile. As a businessman manga artist who loves books and manga, I publish my book-related manga on Twitter and in my note. On May 9 of this year, I released a manga "Shin Kosho Fighter Shingo," which is a compilation of my works published on SNS. And he is a lover of new and used bookstores including Book-Off.
Takano (MC): Mr. Oishi, is the catchphrase "Book-Off aficionado" correct?
Ooishi: Yes, that's what I call myself on Twitter.
Celeina: Is this new secondhand bookstore different from a used bookstore?
Ooishi: Yes, it is. Book-Off was established in the early 1990s, and until then there were only used bookstores. New used bookstores were called "shinko shobonen" (new used bookstores), where newly published books were immediately put on sale in beautiful condition.
Takano: The combination of "new" and "old" is interesting, isn't it?
Celeina: I would like to ask you a lot of questions about this new secondhand bookstore, Book-Off. As a Book-Off aficionado, you can't resist buying books at bargain prices at new and secondhand bookstores.
Ooishi: That's right. Naturally, I buy books I want to read at bookstores, but when I find a book I have been interested in but never bought it on the book-off shelf for 110 yen or 220 yen, I get really excited. Even if it's not on that shelf, a few months later it may appear on the 110 yen shelf, so I get really excited when I find it after a few months of laying on the shelf.
Celeina: I see! So more than reading the book, as a hunter, the moment you capture it, you get a dopamine rush.
Ooishi: When you let it lie for a few months, it is still bought and sold. I enjoy the thrill of it, or I can't help it.
Takano: It's like gambling or sports.
Ooishi: That's right.
Takano: So it's a little different from being a collector.
Ooishi: It is different. I enjoy the joys and sorrows at the bookstore.
Takano: You have been going to Book-Off since you were 15 years old.
Ooishi: That's right. I've been doing it for about 30 years since I was in junior high school, and I haven't changed my lifestyle.
Takano: It has become a part of my life. Which shelf do you look at first when you enter Book-Off? Do you have a routine?
Ooishi: Basically, I look at everything from manga and paperbacks to magazines.
Takano: I enjoy seeing the changes, like this one was there the last time I came here, but this one was not.
Battle manga set in a new and used bookstore
Celeina: As a Book-Off Fighter, Oishi-san has published a manga, "New and Used Book Fighter Shingo. What kind of manga is this?
Ooishi: It is a battle manga about battles that take place in a new and used bookstore, based on a certain story in a used bookstore.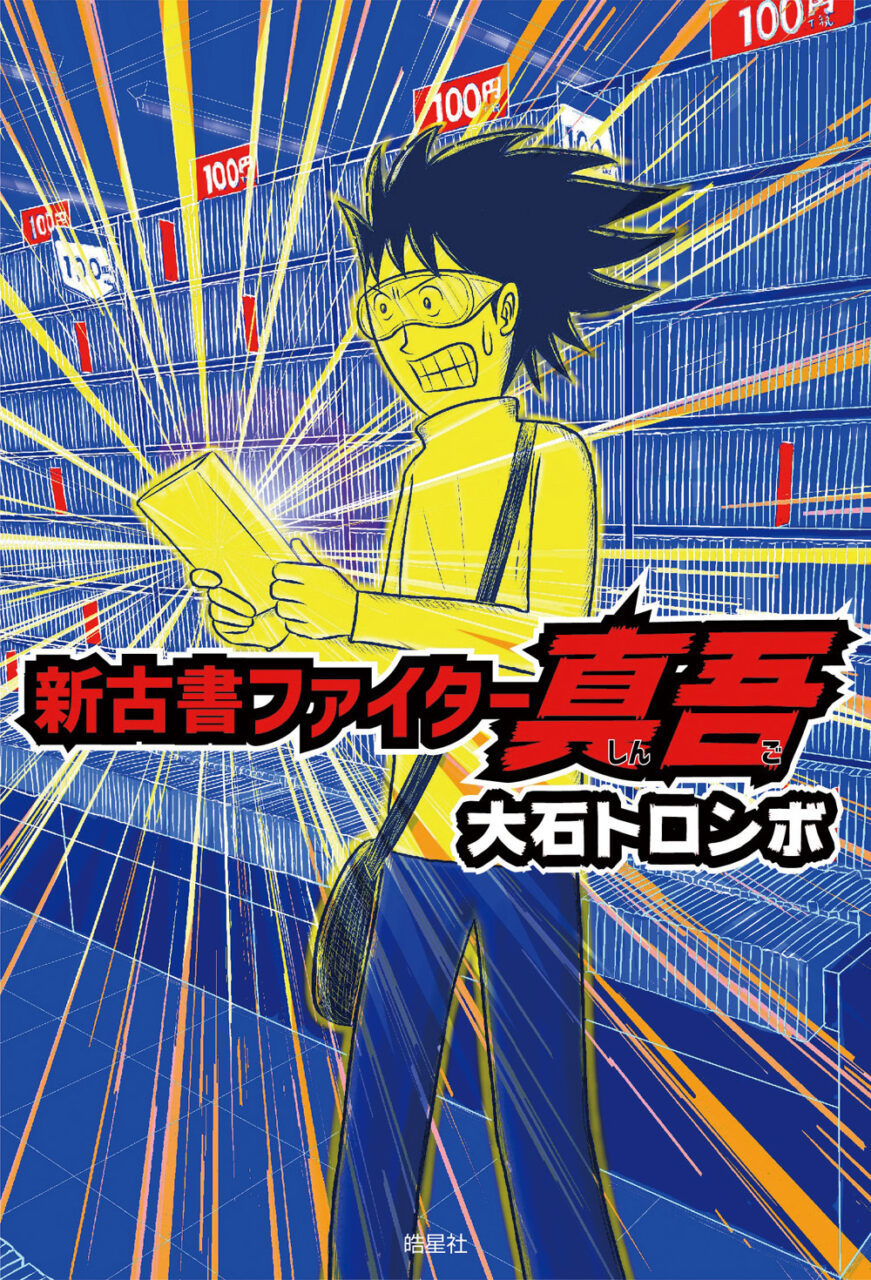 Takano: It's a boys' manga with the content that Oishi-san talked about earlier, but put into a boys' manga battle story. It was really interesting and made me want to go to Book-Off (laughs). For example, the battle with the "Sedori" vendor.
Ooishi: Yes, that's right. Like the silent battle with "Sedori. Basically, it's a battle with myself, whether I should buy this book or not. It's a battle that includes the conflict of whether my way of buying is right or wrong for the store.
Takano: I have never seen a manga with this kind of approach before. It is something that only Mr. Oishi can do.
Celeina: What inspired you to draw this manga?
Ooishi: I had wanted to be a manga artist since I was young, but I gave up the dream once. I used to go to book-off stores all the time, and one day I thought to myself, "What am I doing? I'm an idiot. I thought it would be fun to make this into a manga, so I started announcing it on social media, and it eventually led to publication.
Celeina: You have an interesting point of view.
Takano: Mr. Oishi, your own experiences are also incorporated into your work, aren't they?
Ooishi: Yes, that's right.
Takano: Now, we asked Mr. Oishi to choose a song that he would like everyone to listen to together on the radio at this time.
Ooishi: Sakanaction's "New Treasure Island.
Takano: Why did you choose this song?
Ooishi: This song is the theme song of the movie "Bakuman. which is the theme song of a movie about a manga. I also thought that treasure hunting and treasure would be one of the keywords in "Shinkosho Fighter Shingo," so I thought this song would be a good fit.
Spending time at Book-Off is an oasis for the soul
Takano: Oishi-san, you are currently drawing manga while working at an office, but you still go to Book-Off, don't you?
Ooishi: Yes, I do. Sometimes I go once a week or more. I always go on the days when coupons are offered.
Celeina: How long do you stay once you go?
Ooishi: It depends on the time I can get, but basically one hour per store.
Celeina: Do you go to all the stores in one hour?
Ooishi: Of course (laughs). 300 yen discount coupons are distributed once a month, which can be used at each store. On that day, I go to all the stores.
Celeina: From morning to night?
Ooishi: After work on days when I have work. If it's a holiday, it's from morning to night. I have a family, so I have to ask permission before I go to …… (laughs).
Takano: Apart from your work and family, what is the biggest part of your life?
Ooishi: Book-Off.
Takano: What kind of time do you spend at Book-Off?
Ooishi: It is an oasis for my mind, a healing place. On Friday nights, I am happier when I stop by Book-Off than when I have a drink.
Takano: Your image of Book-Off is changing rapidly.
Celeina: I feel like going there right now.
Takano: I'm going to look for the nearest Book-Off right after the live broadcast.
Celeina: Oishi-san, you are active as an office worker manga artist, what kind of works are you going to create in the future?
Ooishi: I have said publicly that I would like to continue to work as a cartoonist who basically only draws cartoons about books and used books. I think I can differentiate myself because there are not many people who do that kind of work. Since I'm working, I'd like to continue to publish works on book-related themes, albeit in a small way.
Celeina: You introduce your friends to us through the "FIST BUMP" circle of friends connected by the "go-touch" system.
Ooishi: Mr. Takehiro Hino, the manager of Tokiwa Shobo Shizu Station Building.
Celeina: The manager of a bookstore?
Ooishi: He is the manager of a bookstore in my neighborhood. He is well-liked by writers, editors, and bookstore clerks. He writes book reviews and recently published his own book.
Celeina: In a word, what kind of person are you?
Ooishi: A "cool bookstore owner who is cool in an unassuming way.
Takano: That's nice! I'm looking forward to tomorrow. Tomorrow we welcome Takehiro Hino, manager of Tokiwa Shobo Shizu Station Building.
Celeina: Today's guest is Oishi Trombo, a salaried manga artist who loves books and manga. Thank you very much.
Ooishi: Thank you very much.